The Sweet Life of Matt and Cody: Why You Should Join the Fort Collins Food Co-Op
Cody Moore and Matt Lawrence
December 5, 2015
Thanksgiving break was a great time to get away from the worries of homework and class. We all had, hopefully, a relaxing week of family and food. Getting back into the swing of things can be tiring and going from Thanksgiving feasts to dining hall salads doesn't help. But, we're not going to give you a long-winded list of recipes living on the wake of Thanksgiving leftovers. To fill our feast expanded stomachs, it's time to talk about groceries.
For our Friendsgiving we made a pumpkin and butternut squash soup, but we didn't buy the ingredients at King Soopers or Whole Foods. We are friends with a cook who always gets her ingredients at farmer's markets or a local Co-Op. 
As it turns out, a Co-Op is where members own the store, usually selling food or other local products. Our friend introduced us to the Fort Collins Co-Op, located on Mountain Ave. in Old Towne, where we bought the whole pumpkins and butternut squash for our soup. The Co-Op specializes in local, organic and natural products since their inception in 1972. This allows them to stock the market with a variety of unique Northern Colorado creations, like Horsetooth Hot Sauce and MouCo cheeses. Each product comes straight from a vender – about 100 are locals. The store also serves as a tester and springboard for small startups. Several nationwide brands, including MouCo and Honey Stinger, were first introduced in these very shelves.
For the cooking-inclined this sounds great; it's like a year-round farmer's market. Fortunately for all of us you don't have to be a member-owner to shop at it the Co-Op, but a one-time fee of $160 will get you a lifetime membership. A membership will help in the long run, as it includes discounts, occasional profit sharing and a connection into a community of passionate food-lovers. The store functions on a triple bottom line, with priorities on people, the environment, and profit, in that order. The business places the highest value on the health and well-being of the people it serves, a refreshing business model in the profit-driven world of food.
After the success of the soup, we came back to take a closer look the Co-Op, an interview in mind. As we explored the shelves we heard members, employees and vendors of the Co-Op chatting and joking with one another. It felt like we were watching old friends meeting up at the usual hangout. This place had a strong sense of community, something we became interested in joining. We sat down with Trinity Bigford, the deli and catering manager at Fort Collins Food Co-Op, she argued that the extra cost is well worth it.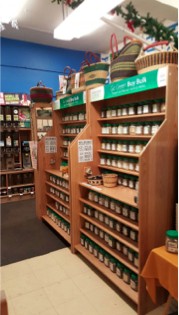 Bulk spices and dry goods make buying staples economically effective, she pointed out that buying a bottle of bay leaves costs about $7.50, but filling up that same bottle with bay leaves costs about 35 cents. Becoming a member also links you into a network of Fort Collins farmers, artisans and eaters.Trust is the biggest plus of becoming a regular at the co-op.
"You don't have to read labels in here," Bigford said. "All of our food is prepared with clean ingredients."
The Co-Op has a rigorous standard for what they put on their shelves, doing the homework for us, ensuring that what they sell is fresh, local and organic when possible, and responsibly raised. You can eat here with a clear conscience. It's an investment in the community, one of the tastiest investments you'll ever make.
Collegian Foodies Matt Lawrence and Cody Moore write about food every Thursday. They can be reached at entertainment@collegian.com or on Twitter at @LawrenceFoods and @codymoorecsu.