'He Named Me Malala' inspires despite somber circumstances
Zara DeGroot
November 12, 2015
I'll admit, I didn't know much about Malala Yousafzai before watching her documentary. I knew she had won the Nobel Peace Prize in 2014 for women and children's educational rights, and that she had released a book telling her story. But I had little knowledge of the trials and tribulations she had faced at such a young age. Ignorance has its ways.
But watching this film and seeing this incredible young woman's heroic story of hope and courage showed me the error in my ways.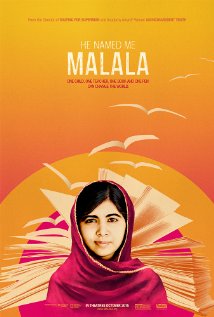 At age 15, Malala was shot in the head on a school bus by the Taliban on her way home from school in the Swat District of Pakistan. The Taliban military hold had strengthened in the Swat District, and as a result, young women and girls were being banned from schools. Malala, along with her father, had been targeted for speaking out about the right to education. Malala took a stand, and was knocked down. But, she did not stay down. Through a miraculous recovery, Malala survived the most dangerous of situations with minor, almost unnoticeable injuries. 
The documentary, directed by Academy Award-winning Davis Guggenheim, tells Malala's shocking and inspirational story of survival and achievement. It delves into Malala's life, capturing her sweet and modest sense of humor, her funny family dynamic and her passion for women's educational rights. The film painted a relatable, touching portrait of Malala — not only as an activist and world leader, but as an 18-year-old young woman navigating the young adult years. 
Alongside the interview footage with Malala, her family and friends and snippets of her speeches, was animated pictures which illustrated moments of Malala's life. The colorful addition added to the whimsical feel of the film.
However, my only complaint was that the footage went back and forth from interviews with Malala, clips of her younger years and the animations. It felt as if it was jumping around too fast, and made it a little difficult to piece together each portion of her life. 
This documentary speaks to a large demographic of individuals who may feel disempowered and unable to affect change. Malala is an ordinary girl who overcame extraordinary circumstances, and is using her story to make a difference in the way the world views education. 
In an interview with Emma Watson at the INTO Film Festival earlier in November, Malala said, in regards to her film, "I want this movie to not just be a movie, but a movement."
And this film has the potential to make that happen. Overall, it was an incredible documentary, and I highly recommend it. You will undoubtably leave feeling humbled and inspired.
Collegian A&E reporter Zara DeGroot can be reached at entertainment@collegian.com, or on Twitter @zar_degroot.