Student by day, rapper by night: Emprovyze records out of Corbett Hall
Veronica Baas
October 14, 2015
For most students, living in a dorm can be loud and space limiting. Sophomore Josh Weemes manages to fit a small recording studio into his.
Weemes started rapping last year when he lived in Durward Hall. Now he is a RA in Corbett Hall where he still records music.
His fans know him as Emprovyze, and for now his tracks can be found on Soundcloud.
"I want to record a four or five song EP by the end of this upcoming summer," Weemes said. "That's my goal, I hope to be on iTunes and Spotify by then."
The newest Emprovyze track, "Oceans," was recorded out of Corbett. Two of his other songs, "Dude…Where's my ship?" and "The End," were recorded in Durward.
"I have a condenser microphone, and I have like a sound proofing foam that I've built around it so it blocks outside noise," Weemes said. "Then I have studio monitors, monitors are a fancy word for speakers, and I work with Logic ProX."
Weemes pays for his education on his own, as well as the finances involved with making music. He has to buy the beats he raps to, purchase the equipment he records on and in the future he wants to get some real studio time.
"I'm a 20 year old, single dude I can take all the financial risks I need to right now," Weemes said. "And whether or not Emprovyze blows up, I want to be able tell people that I had a dream and I went for it, regardless of what happens."
It was only about five months ago when Weemes started recording his music. After his friends recognized his passion for the written word, they convinced him to try rapping to a beat. It came naturally and he has been hooked since.
"I love doing it," Weemes said. "It gets me up in the morning and keeps me up a little too late at night."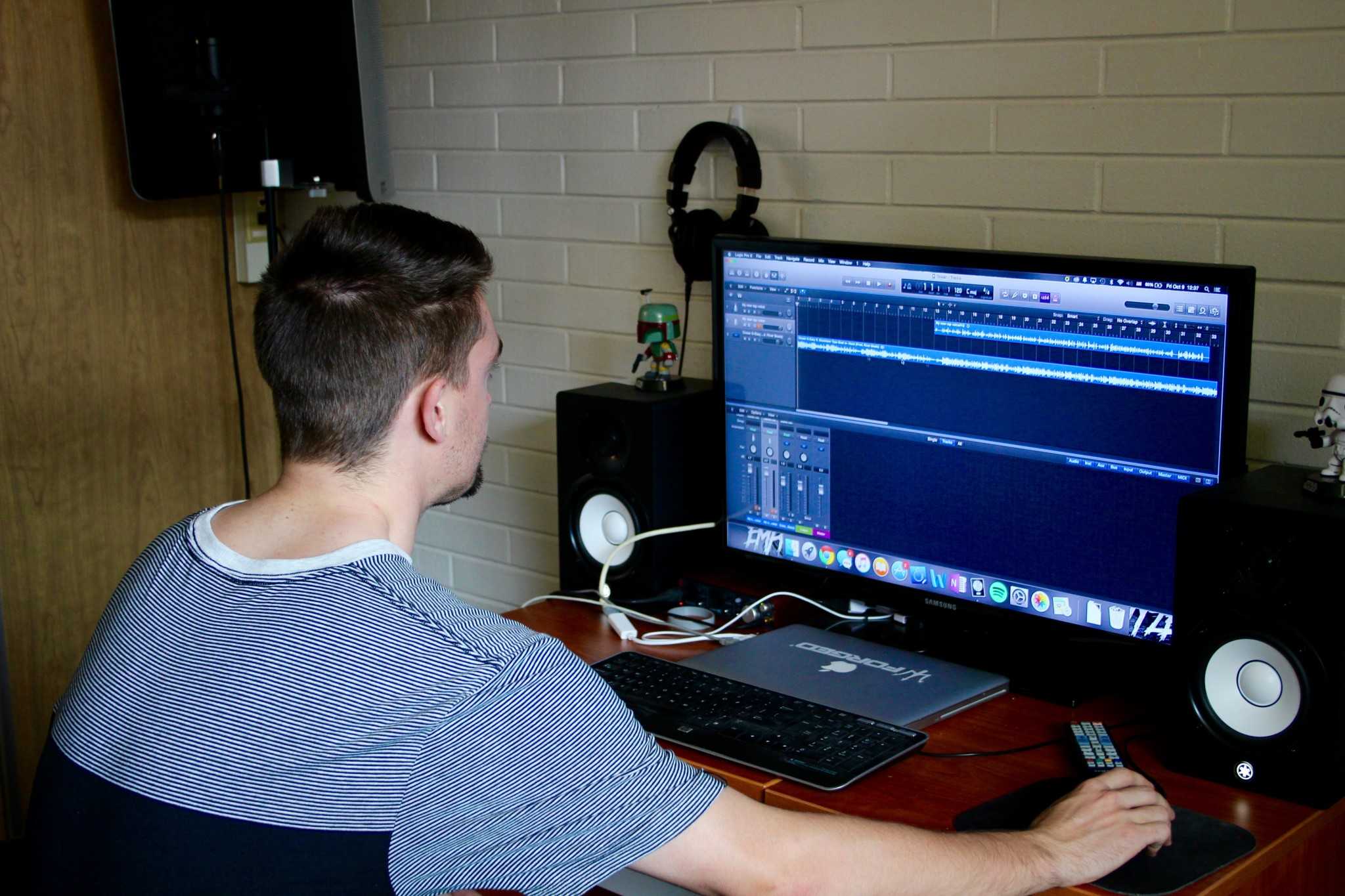 When he began, he was a freshman studying journalism, living on campus and recording when he could. Zach Hussey, Weemes' floormate at the time, said he could hear him rapping last year when they lived on the same hall.
"I could hear him recording for sure," Hussey said. "I couldn't exactly hear what he was saying, but I could hear a beat and hear him rapping pretty fast."
Since then, his fan base has grown to more than just friends. He said ten percent of his plays on Soundcloud are international, and he receives fan mail and comments from people all over the world.
"I'm definitely branching out to a much broader audience, trying to break away from my friends," Weemes said. "But your friends can start a lot too. It's all a snowball effect."
Currently Weemes is in the process of talking to booking agents to arrange some smaller scale shows. He hopes this will help expand his fan base and spread the music.
Freshman Josh Dorsch went to high school with Weemes before he became Emprovyze. They have grown closer since coming to CSU, and Dorsch thinks he has a good chance of blowing up.
"I've heard him freestyle and this kid has an act for this — he has some serious talent," Dorsch said
Emprovyze wants his listeners to know that he cares about what his lyrics mean, and how his audience perceives them. He thinks it is important to have a purpose and a message. For example, he raps "If music is lust than my lyrics are love" in his newest song "Oceans." 
Weemes does not fit in to the average rapper stereotype, so gaining respect from his listeners has been hard. So far it seems to be working out. His new song released less than a month ago already has 400 plays on YouTube and almost 1,000 on Soundcloud.
"Josh talks a lot about how this is a huge dream for him and how he wants everyone to be able to live their dreams," Hussey said. "I think that's one of the reasons he's sticking to this, because he believes everyone should go through with what they really want to do in life."
Collegian Reporter Veronica Baas can be reached at entertainment@collegian.com or on Twitter @vcbaas.