Of Monsters and Men, BØRNS, Amason brought magic to Denver
Neall Denman
October 14, 2015
Overall Concert: 4.5/5
I went to the show to see a band I have listened to and loved since I was 15, and for the first time ever I was seeing them live and in person. 
It marked the first ever "Harvest Ball" hosted by KBCO 97.3 at the 1STBANK Centre in Broomfield. The main attraction was the Icelandic indie folk band Of Monsters and Men, with American singer-songwriter BØRNS, and relatively new Swedish band Amason opening for them.
I arrived at the 1STBANK Centre in Broomfield at 7 p.m. Tuesday to a surprisingly small crowd of people in the general admission floor area. Being a relatively short person it proved to be challenging to find a place to stand where I could see the stage. Eventually I found a place to stand right as the Swedish band Amason came out on the stage.
Amason was a band that I had never heard of before, but, as a person of Scandinavian ancestry, the fact that they were Swedish immediately peaked my interest.
Throughout Amason's set, I was entranced with their sound and the lead singer, Amanda Bergman's voice. I was so amazed with their music that I knew that the instant I got home I would purchase their album. My personal favourite from their album "Sky City" is the song "Kelly."
https://soundcloud.com/amasonband/kelly
After Amason's incredible set and a bit of waiting while the stage was readied, the American singer-songwriter BØRNS and his Los Angeles based band took the stage. Many people had come to the Harvest Ball specifically to see him, and I had heard many things about him except his music so I was excited to finally hear his performance.
BØRNS played songs from his upcoming album "Dopamine"  which releases Friday. I was thoroughly impressed with BØRNS' singing and lyrics. What also was notable was his quirky sense of humor throughout his performance. For example, he commented how "everyone's been to a weird pool party once" when describing the inspiration for one of his songs.
Overall I was very impressed with BØRNS' performance and I can say I will more than likely give his album a listen when it come out. I can say without a doubt I am a fan.
After many minutes of anxious waiting, the moment I had been waiting the past 5 years for began — Of Monsters and Men came on stage. Seeing and hearing the ever-so-talented Nanna Bryndís Hilmarsdóttir, Ragnar "Raggi" Þórhallsson and the other members of Of Monsters and Men in person for the first time was an endlessly emotional experience that proves quite difficult to describe in words.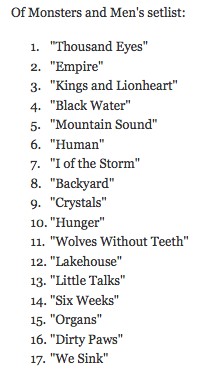 I must confess I teared up slightly during the playing of "Empire" and "Little Talks," due to the pure overwhelming emotion I was feeling upon hearing my favorite songs from one of my all-time favorite bands being played live.
On a purely spectacle basis, Of Monsters and Men did an excellent job with the lighting that matched each song they played and constantly had different colors illuminating the stage. And the Icelandic band did an excellent job involving the audience in their performance. 
One memorable moment was during the song "Organs" with Nanna's enchanting singing, hundreds of the members of the audience pulled out their smartphones and activated the flashlight function and the whole floor was illuminated.
After the song "Six Weeks" the show was seemingly over and the crowd's cheers were overwhelmingly loud and then Of Monsters and Men came back out on stage to play three more songs, including their incredibly well-known song "Dirty Paws."
After the encore, the show was over and I was left emotional and blown away by what I had just witnessed.
Three great bands had brought pure musical magic to Colorado and given the audience more than they expected, and I would love to see all three bands come to Colorado again in the future.
Collegian Reviewer Neall Denman can be reached at entertainment@collegian.com or on Twitter @nealldenman.