As the fall semester progresses, the performances and shows at the University Center for the Arts begin to open. Put on by the departments of theater, dance and music, these shows are free for all students to attend starting this year.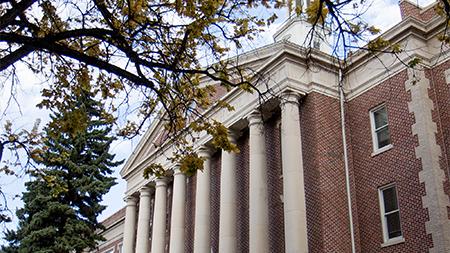 Theater
"Step on a Crack"
Oct. 9-25, 7:30 p.m. Fridays, 2 p.m. and 7:30 p.m. Saturdays.
Directed by Laura Jones, this is "a play for kids (and adult kids)." Written by Suzan Zeder, this show follows the story of a young girl and her imaginary friends as she explores fantasy worlds in order to better understand the real world around her.
"The Winter's Tale"
Dec. 4-13, 7:30 p.m. Thursdays, Fridays and Saturdays, 2 p.m. Sundays.
Directed by Eric Prince, "Winter's Tale" is a Shakespearean classic. Full of love, jealousy and shocking consequences, this story is told using music, dance and Shakespeare's most famous stage direction: Exit pursued by a bear.
Opera
"Hansel and Gretel"
7:30 p.m. Nov. 6 and 2 p.m. Nov. 8.
Engelbert Humperdinck's take on the classic Brothers Grimm fairy tale, this opera production of "Hansel and Gretel" is promised to be fun for the whole family.
Dance
Fall Dance Concert
Nov. 13-14, 7:30 p.m. Friday, 2 p.m. and 7 p.m. Saturday.
This collaboration of all the aspects of the dance department features many different styles of dance, and will include an original duet choreographed for the group the Verb Ballets by CSU's own Chung-Fu Chang.
Dance Major Capstone Concert
Dec. 11-12, 7:30 p.m. Friday, 2 p.m. and 7:30 p.m. Saturday.
Dance majors demonstrate their choreography and performance talents at the capstone concert. This fall features the works of Alex Ader, Kayla Banks and Bonnie Tomson.
Music

Various Concerts
All semester long, the various choirs, bands and other ensembles will be showcasing their talents at the many fall concerts.
Holiday Spectacular
Dec. 3-5, 2 p.m. and 7 p.m.
This annual holiday show combines the orchestra with the four chorus ensembles to celebrate fun for the whole family.
Collegian Reporter Chapman Croskell can be reached at entertainment@collegian.com and on Twitter @Nescwick.