My IMDb rating: 9/10
After a summer of mostly disappointing reboots of old action movies, a straight drama-comedy like "Mistress America" is overwhelmingly refreshing. Imagine eating a big mac every day for a month, then going out for prime rib.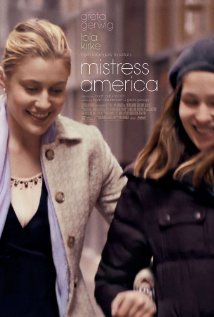 Much like actual prime rib, "Mistress America" is excellent regardless of what it's being compared to. Noah Baumbach, writer and director of New York-set indie dramas "The Squid and the Whale," "Margot at the Wedding," "Frances Ha" and "While We're Young," brings this lovely New York-set indie drama, which is spectacularly funny and put together in such a way that behind the curtain is indeed a master of his craft.
"Mistress America" stars Greta Gerwig, Baumbach's newly frequent collaborator, and Lola Kirke, as Brooke and Tracy, two women whose parents are about to marry, and are therefore obligated to start acting sisterly. The latter is an insecure and hopeful college freshman/short story writer, and the former is the definition of what everyone wants to be — casually successful, infinitely sure of herself and living without any boredom or hardship in sight.
Simply put, Brooke is a star, and Tracy quickly orbits her with undying curiosity — maybe an unhealthy one. Within minutes of meeting her, Brooke has pitched her ideas for novels, TV, her restaurant she is about to open and not-so-subtly mentions her work as a freelance interior designer, among other things which inspire envy in Tracy. The story of the film Tracy's obsession with Brooke, and the short story she writes about her, aptly titled "Mistress America."
Such a plot would normally be setting itself for failure. Who is it about — Brooke or Tracy? It's a problem people have been dealing with since "The Great Gatsby." But unlike Gatsby, Tracy is an equally interesting character, because of her desires and humanity rather than her accomplishments and actions. It also helps that the performances from both actresses come across as relaxed and playful, inspiring smiles over the simplest of scenes.
The supporting cast of the film is fabulous as well. More than six other minor characters keep the story going, and at one point, they are all in the same room. Baumbach keeps them all engaged in the dialogue, without causing confusion or chaos for even a second, and creating surprisingly funny and endearing moments in the process.
In terms of cinema as a whole, and especially in terms of public interest, "Mistress America" will ultimately prove to be inconsequential. However, this hardly matters, as the whole point of the film is that it doesn't want to be consequential. It just wants to be itself, to present a story and its characters as truthfully as possible.
Tracy writes that Brooke is someone who makes you want to dress like yourself, rather than her. This is a film that makes you want to be yourself, rather than like any of its principle characters. They are driven by unhealthy desires, but certainly not desires any of us would be unfamiliar with.
In "Mistress America," to err is human. The characters only realize their humanity when they have failed completely, or when they have succeeded and feel completely empty. The film itself succeeds because its writing and performances are so real and honest that you forget you are watching actors, and imagine yourself in the screen.
"Mistress America" is playing only at the Lyric Cinema Café.
Collegian Film Critic Morgan Smith can be reached at entertainment@collegian.com or on Twitter @MDSFilms.