Biggest names that have performed FoCo stages
Randi Mattox
August 27, 2015
Three-time Country Music Awards nominee and 2015 American Country Music Awards winner Lee Brice will be added to the list of concerts held in Fort Collins Friday.
Brice is not the only superstar to grace the concert stage in Fort Collins. The city has been the site of incredible concerts that have made history in the music industry. Here's a list of some of the most acclaimed performances that Fort Collins has hosted:
1. Nov. 7, 1969: The Rolling Stones and B.B. King
The Rolling Stones and B.B. King performed a "break-in" performance at CSU's Moby Arena. Fort Collins was the first stop in the Rolling Stones' 1969 "Let it Bleed Tour." Mick Jagger told Rolling Stone Magazine that the audience provided an unusual response, as if they were "too stoned to move."
2. July 20, 1975: The Beach Boys and Chicago with Elton John
The Beach Boys and Chicago performed together at Hughes Stadium. Elton John unexpectedly joined the bands onstage during the encore. 
3. May 23, 1976: Bob Dylan
Bob Dylan played at Hughes Stadium as part of the Rolling Thunder Revue. His protest music generated a crowd of 25,000 fans.
4. March 29, 1980: Van Halen
Van Halen rocked the Moby Gym during the legendary World Invasion Tour.
5. Dec. 2, 1980: Frank Zappa
Frank Zappa brought a jazz-rock fusion to the Moby Gym. "Frank Zappa Live in Fort Collins" was recorded during this concert.
6. Feb. 28, 1982: U2
U2 stopped by the Colorado State University Community Center during their "October Tour."
7. Sept. 15-24, 2002: Ray Charles
Ray Charles graced the Lincoln Center with multiple performances.
8. Aug. 30, 2013: Macklemore and Ryan Lewis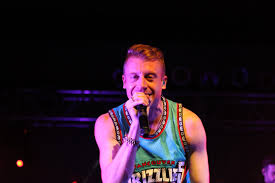 Macklemore and Ryan Lewis headlined Ram Fest 2013. They played a sold out show on the CSU Intramural Field.
Collegian Reporter Randi Mattox can be reached at entertainment@collegian.com or on Twitter at @randi_mattox.