You guys, I am totally buggin'!
"Clueless," one of the most culturally influential films of the '90s, is turning 20 this July. Often referred to as the "Mean Girls" of its time, "Clueless" spawned new fashion, a new language and a new breed of teen comedy.
You may not realize it, but the use of "Whatever!" as a slang term skyrocketed in popularity after the release of "Clueless," as did knee high socks and tartan ensembles and, like, the word "like." The film has had a massive effect on pop culture. While "Heathers" may have had similar aspects, "Clueless" was the first teen film to break the mold and gain a massive following of devout fans.
Without "Clueless," there would be not be any "Mean Girls," and Iggy Azalea's video for "Fancy" would have probably been pretty boring (if you were not already aware that the video for "Fancy" was a tribute to "Clueless," then I am deeply disappointed in you).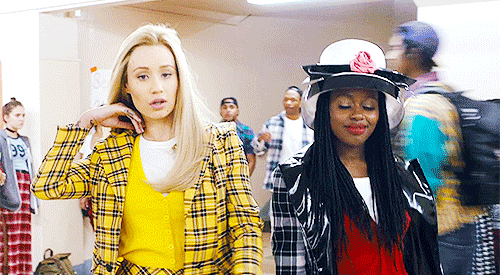 This film launched the careers of many of the actors, including Alicia Silverstone, Brittany Murphy, Donald Faison (Turk from "Scrubs") and most notably, Paul Rudd, who will be playing the titular character in the July Marvel release, "Ant-Man."
For all the above reasons, "Clueless" is worth seeing, but if you have not checked it out yet (it is available on Netflix), there are plenty of other great things about it. The music, while slightly dated, is upbeat and fun. The clothing might also seem very '90s, but if you pay close attention, you will see that many fashion trends were spawned from the many looks of Cher and Dionne.
The most important aspect of this film, however, is that where the fashion trends, slang and music may have faded with time, the humor has not. This movie is hilarious. The jokes are timeless and many of the one-liners still pack quite a punch today.
In honor of the great dialogue of "Clueless," I present you with my top ten moments from the film, in no particular order:
1. "Post-adolescent idealistic phase." Used in reference Paul Rudd's character, Josh, this phrase is so perfectly descriptive of the lives of us college students.
2. Amber: "Ms. Stoeger, my plastic surgeon doesn't want me doing any activity where balls fly at my nose."
Dionne: "Well, there goes your social life."
3. Cher's mispronunciation of "Haitians." She says it as "Hate-ians," a mistake on Alicia Silverstone's part. When they went to correct her, the director stopped them, understanding the comedic possibility for the scene.
4. Cher: "I'm captain of the Pismo Beach disaster relief."
Mel: "I don't think they need your skis."
Cher: "Daddy, some people lost all their belongings. Don't you think that includes athletic equipment?" 
5. Cher: "I was surfing the crimson wave. I had to haul a** to the ladies'."
6. Josh: "Do you have any idea what you're talking about?"
Cher: "No. Why, does it sound like I do?"
7. Christian: "Do you like Billie Holiday?"
Cher: "I love him."
8. Cher, after hitting another car as she drove: "Oh! Should I write them a note?"
9. Cher, on being a virgin: "You see how picky I am about my shoes, and they only go on my feet!"
10. Think we'll be forgetting this modern classic anytime soon? I've got two words for ya: "As if!"
Gifs courtesy of giphy.com.
Collegian A&E Writer Aubrey Shanahan can be reached at news@collegian.com or on Twitter @aubs926.