Next time you hail a Yellow Cab in Fort Collins, ask the driver if he knows Will Smith.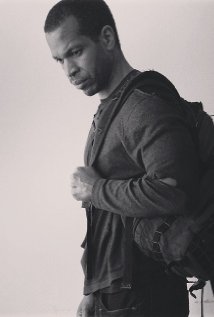 If your driver is Maetrix Fitten, then the answer is "yes." In 2008, Fitten played one of the villains, Matrix, in the movie "Hancock." His co-stars included Jason Bateman and Academy Award winner Charlize Theron.
"Jason Bateman is really laidback," Fitten said. "If you met him and didn't know who he was, you wouldn't think he was an actor. Will Smith has the same stardom energy and look in real life, and Charlize Theron has that same quality, like royalty – not stuck-up, but out of her rodeo."
Fitten has been in show business for 15 years, beginning as a small-time model in Los Angeles before acting in commercials, then student films, then independent films. Right after "Hancock," he started regularly visiting a friend in Fort Collins and moved out here eight months ago.
"I couldn't break in and be creative in L.A.," Fitten said. "It's a pond with big fish, and you have to play by their rules. I didn't want to get my inventive ability compromised, and Fort Collins gives me the platform and the opportunity to go at my own pace with my ideas and vision."
In order to pursue those ideas and that vision, Fitten got involved with In the SHED media Ltd., a local video production company which began in February 2013 during the cold, late hours in the backyard shed at co-owner Barrett Lione-Seaton's house.
"Just because someone lives in L.A., doesn't make them professional, or an amateur – it depends on the person and the project," Fitten said. "What initially attracted me to the SHED was its sense of unity. Team collaboration is the hardest thing to achieve."
According to Lione-Seaton, the SHED's two main, long-term goals are to produce theatrical independent films after making enough money working in music, breweries, venues and restaurants, and also to give back a percentage of profits to the community as a B Corporation.
"We're currently on the hunt for salespeople," Lione-Seaton said. "It wouldn't be an easy sales deal for pre-professional salespeople, but it'd be commission-based type sales. We're looking for an above-average local contract and we're reaching out to students at CSU."
Social is a Fort Collins bar that helps support the SHED by allowing them to film in their building. According to General Manager Jen Beshore, Social and the SHED have only started their working relationship recently.
"A lot of photo and video shoots take place here at Social," Beshore said. "We have a strong history of supporting the arts in our community."
Fellow SHED co-owner Sean Tredway, another "SHED HEAD," is a self-taught cinematographer and editor (through YouTube tutorials, books and on-set experience) who grew up in an artistic environment under a grandmother who was an art teacher for 30 years.
"We try to get rid of the 'lone wolf' film aspect in Denver and surrounding areas," Tredway said. "We incorporate all filmmakers into our hub. We break down all the barriers, because, here, it's not about doing it for yourself – it's about coming together to make bigger, better projects."
The third "SHED HEAD" co-owner is Jesse Nyander, who got into film because he felt like his teachers were suppressing his creativity in school, and video was the only thing they did not know how to do.
"When comparing ourselves to the Northern Colorado music scene, it's all about building a community following," Nyander said. "We're a community of filmmakers, just like the musicians and the breweries. We translate the Northern Colorado mindset into our filmmaking."
According to Maetrix Fitten, this communal spirit is the way of the future.
"I'm most passionate about the capacity film has for opening our eyes to different perspectives on life," Fitten said. "It's that force of inspiration that makes me want to inspire others as well."
Collegian A&E Writer Hunter Goddard can be reached at entertainment@collegian.com or on Twitter @hunter_gaga.