Q&A: Red Light Challenge's CSU alumnus and brother to release EP
Brothers and Hawaii natives Kyle and Sean Luster created alternative rock band Red Light Challenge when Sean was a senior in high school. Sean is now a CSU business alumnus. He and his brother Kyle toured the United States, won an award at the LA Music Awards in November and started a charity through working hard with their passion for music.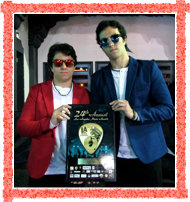 The brothers talked with the Collegian, reflecting on their story and speaking about their upcoming EP to be released in the spring.
Q: When did you two decide to become a band?
Sean: Well, we both love anything music. I was in a band before in high school, and when that fell apart, like bands do, then Kyle — little Kyle was like, 11 years old and I was like "Hey, do you want to play the drums?" And he learned the drums without lessons. Since then it's been nonstop music.
Q: How has being in a band affected your relationship as brothers?
S: I think we've always been pretty close, but it's been super cool to run a business together because it's something we both really love. Our minds think similarly, but differently, and when we come together to make music it's a lot of fun.
Kyle: We'll come up with stuff individually, but when we collaborate on it, that's when it becomes really special.
Q: How did you pick the name "Red Light Challenge"?
S: Yeah, we've heard some risque meanings out of that.
K: We don't know about that; we don't know about that.
S: Do you know the show "Cash Cab"? We were trying to figure out what our name should be one day because we had to choose a name and our other one was really silly. We were just sitting watching TV and we heard it and were like "that's it."
Q: And what was your name before?
K: You really want to know? It was "Just Us Two."
S: It was kinda cute and that was just great.
Q: What's the alternative rock scene look like in Hawaii?
K: Obviously all of our concerts here take place in either a hut or in the ocean. (laughter) No, there are some alternative rock bands here but it's definitely not the prevailing genre. There's a lot of reggae, and then Hawaiian music. So we're kind of different in the realm of what's here.
Q: Let's talk about how you give back. Why did you create your charity "Red Light Challenge, Green Light Go"?
S: We've always wanted to give back to the community and get younger generations involved, since we started as a band. And we thought why not make something of our own where we can inspire children and younger people or even adults? We're just two regular guys from Hawaii who went to public school. We worked really hard, tried to get good grades and we love music. It just shows that with just a little bit of effort and determination, look what we can do and anybody else can do, too.
K: Yeah, just trying to lead by example.
Q: In the summer of 2013 you got to play 42 shows across 16 states. What was your favorite part about being on tour?
K: Besides performing, it was getting to see a lot of new people. Though it was a working tour, it was really cool just seeing the different parts of the country that not everyone would see on their typical vacation. We got to meet all these people from different backgrounds, different places, and it was so cool to be able to spread some "aloha" from Hawaii with them.
Q: Tell me what the experience was like at the Los Angeles Music Awards.
S: It was really cool, pretty much exactly like what you would see on TV at the Grammys or on MTV. This was for independent artists from around the world. There was a red carpet that we got interviewed on.
K: And don't worry, we looked good.
S: All the different genres were being represented. There were a lot of musicians from Australia, different places in Europe — from all over the world. But our specific category, which was "Hot Adult Contemporary Artist of the Year," was narrowed down to five nominees.
K: When we won we were screaming like girls at first, our makeup was running. (laughter) It was really cool. It's hard to explain because it was in the moment; it was so much fun being able to walk up to the front and accept the award.
Q: What are your goals for this next year with the band?
S: We have something really exciting coming up in the spring. We're planning on doing a four song EP (extended playlist) in Los Angeles with a producer named Warren Huart. And he's worked with bands like Aerosmith and the Fray. We're really excited to work with him.
Q: How do you choose the songs for your EP?
S: We have older stuff from when we were still "Just Us Two." We had a lot of songs. When we toured in 2010 we had a full album of ten songs. Since then we've been picking the songs that we think are moving forward. So we're talking with the producer, trying to pick the songs for this EP. We have 24 songs to choose from.
Collegian A&E Writer Sierra Cymes can be reached at entertainment@collegian.com or on Twitter @sierra_cymes.