Amy Poehler's "Yes Please" is an (unsurprisingly) unique and enjoyable read
Aubrey Shanahan
December 4, 2014
Amy Poehler is a beacon.
Millions of people admire her, and after reading her autobiography "Yes Please", it is clear why.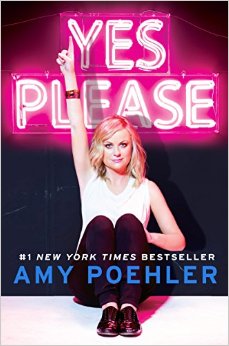 If you happen to purchase a hardcover copy, (which I would highly recommend) the pages are all glossy photo paper, most likely because of the copious amounts of personal photos saturating each chapter.
The front cover features a proud Amy Poehler pointing to the neon title above her, while the back cover draws a chuckle as it suggests how and when to read the book. Overall, the book is wonderfully colorful and bright, which is a nice change from all of the plain, dense academic books required for classes.
This book is messy in the best possible ways; it does not follow any linear timeline, nor most other rules about books, for that matter.
The introduction is all about how difficult it was to finish the book; something that most people would not admit to so readily, but Poehler is not afraid to be honest. Her stories, pictures, memories and life lessons are scattered throughout in a haphazard manner.
If you do not read it closely enough, you will miss some of the best parts.
There are critics of the books that condemn this ambivalent attitude towards her memoir. The New York Times review by Dwight Garner goes so far as to say, "Even smart, hilarious people, the ones you wish were your great friends, sometimes can't write."
While Poehler's writing may not be up to snuff with Hemingway, she certainly presents her life tale in an engaging manner. I would argue that her voice is clear and that the lack of organization adds a personal touch.
Our lives are often busy and chaotic, so why must it be written in a tired, linear format?
Poehler's book demands your attention in the effortless way that her comedy evokes laughter. It feels as though she is not simply writing to tell her story, but also to speak directly to an individual reader.
Her voice in this book is maternal, friendly and comforting. She knows that the people reading this book look up to her and she is masterful in assuring us that she is a human being with feelings and a life. Her positive attitude emanates from the pages as she doles out some great advice; yet thanks to her writing, it does not ever sound snobbish or lofty.
Perhaps the best part about reading this book is that it is essentially very episodic. It is not a linear story, so you do not need to worry about what happens next in the life of Amy Poehler.
You can read it slowly and in-between homework and studying. Some chapters take 20 minutes to finish, while others might take five or even two minutes, and while it is always recommended to read a book from beginning to end, I would say it is definitely safe to skip around if you want.
"Yes Please" is an entertaining read that invites you to return to it if you ever need warm words or a pep talk. It is an inspiring read that I would definitely recommend for study breaks during finals.
Since we cannot all be best friends with Amy Poehler, here is the next best thing.
Happy reading, Rams.
Collegian A&E Writer Aubrey Shanahan can be reached at entertainment.com or on Twitter @aubs926.