Film Review: 'St. Vincent'
Morgan Smith
November 7, 2014
Bill Murray's latest role keep things simple and will pull on your heartstrings.
"St. Vincent" is fresh out of its run at the Toronto International Film Festival, where it won third place in the People's Choice Awards, and is now in wide release.
Bill Murray stars as Vincent, a grumpy old man living alone, who comes home drunk one night. He smashes his fence, hurts his hand and his head and blacks out. The next morning, he meets the fellow main characters, Maggie, played by Melissa McCarthy, and Oliver, played by Jaeden Lieberher, as their move-in truck knocks a tree down onto Vincent's car.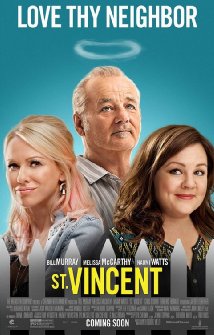 Throughout the story, we find out that Vincent hates pretty much everybody, gambles away all his money, employs a prostitute, played by Naomi Watts, has no job and has no friends except the people he owes money. But through the point of view of Oliver, the audience's opinion of Vincent starts to change.
Disguised as a black comedy, "St. Vincent" is a discussion of what morality really is. Is it based on your religion? Is it based on the way you live your life or how you treat others?
If you go to "St. Vincent" expecting a comedy, you will be disappointed. Expect a simple drama.
This film could not be possible without Bill Murray. He is the king of angry old men right now, besides maybe Tommy Lee Jones. "The Monuments Men," "Hyde Park On Hudson," "Lost in Translation" and "Osmosis Jones" all feature Murray's grumpiness, even "Garfield" has him as a grumpy cat.
Almost as an homage to his recent career, "St. Vincent" captures how a cranky old man can change, much like the story of "Up."
Murray is one of those actors who has appealed to current generations for his entire career. He is a household name and his films from the height of his career, like "Ghostbusters" and "Caddyshack," are legendary. It isn't often that so many people will lovingly follow the entire career of one man.
Any chance to see Murray in action at this point should be taken in a heartbeat, as he is one of the greatest actors to ever live, and on the level of Robin Williams in my mind.
Through the little boy Oliver, this film appeals to anyone who once had problems at school or at home. The boy becomes an excellent conduit for the film's message.
Melissa McCarthy is finally showing off her dramatic side, moving away from recent raunchy comedies like "Tammy," "The Heat" and "The Hangover Part III."
"St. Vincent" won't be receiving much award buzz, and people probably won't remember the film a year from now. However, it is a nice and simple drama that is worth your time if you love movies, especially if you love Bill Murray.
Collegian A&E Film Beat Writer Morgan Smith can be reached at entertainment@collegian.com or on Twitter @MDSFilms.