"Birdman" is soaring at the box-office as well as in the eyes of film critics.
Michael Keaton is making his comeback as Riggan Thomson, a man making his comeback after his "Birdman" films.
Alejandro Gonzáles Iñárritu directs this dark dramatic comedy about the production of a play in the St. James Theater, with costars Edward Norton, Zach Galifianakis, Emma Stone and Naomi Watts.
Keaton's character, Thomson, is directing, writing and acting in his own theater adaptation of "What We Talk About When We Talk About Love." Thomson is trying to move away from his public image as that guy who played "The Birdman." Calamity ensues as the production prepares for previews and the opening night.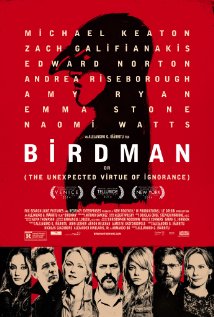 The level of difficulty in making this film needs to noted. The entire film is designed to appear as if it were done in one continuous shot. This means there is a level of choreography that is completely absent from most films today, as actors had to know their exact lines, head movements, actions and positions for takes lasting up to 20 minutes at a time.
At times actors would even have to hide behind props and wait for their cue. The effect of this style of filming is hectic and theatrical, like stream-of-consciousness. In fact, one line is quoted from Shakespeare's "Macbeth": "A tale, told by an idiot, full of sound and fury, signifying nothing." This line was the inspiration for William Faulkner's "The Sound and the Fury," a book written in stream-of-consciousness.
The man behind this amazing choreography and camera work is Emmanuel Lubezki. Lubezki won the Oscar for Best Cinematography last year for "Gravity," and his work in this film will undoubtedly be his second in a row.
The protagonist, Thomson, is a schizophrenic. His alternate identity is his own Birdman character, who leads him to believe he has superhero powers, such as flight and telekinesis. He also urges Thomson to give up his theatrical career and return to making blockbuster "Birdman" films.
The camera work throughout the entire film is handheld and is given a floating a feeling, as if Thomson's Birdman identity is always watching.
The set design is beautiful as well, utilizing famous landmarks like the St. James Theatre and Times Square in New York. The entire film takes place in this area, moving from room to room, which is each meticulously decorated to make the best looking shot possible, like a tiny liquor store decorated with hundreds of Christmas lights.
The acting by the entire cast is brilliant. This is Michael Keaton's best role ever, and the world will finally know how good of an actor he is. Edward Norton delivered as always, playing a character, Mike, who is an actor that always delivers. Emma Stone is still the love of my life and she was perfect. She flubbed on some of her lines, but it ultimately gives her scenes a more human feel. Zach Galifianakis performed spectacularly as well, despite "Birdman" being his first really dramatic film.
Michael Keaton, Edward Norton and Emma Stone are certain to receive acting nominations from the Academy for their work. Iñárritu is due for a directing win, as well as Emmanuel Lubezki for a second win.
Antonio Sanchez has already won an award for his score, and is due for an Academy nomination.The score is entirely on a  single drum set, changing tempo to match the tone of the characters on screen.
Michael Keaton is currently nominated for Best Actor at the Gotham Awards in New York.
"Birdman" is now in wide release, make sure you go see this film which will leave you laughing and contemplating the human condition at the same time.
Collegian A&E Film Beat Writer Morgan Smith can be reached at entertainment@collegian.com or on Twitter @MDSFilms.