5 reasons you should be super stoked that "Gilmore Girls" is now on Netflix
McKenna Ferguson
October 1, 2014
As the turn of the century approached and the world was in the midst of the infamous Y2K panic, a gem of American television was being born.
On Oct. 5, 2000, the pilot episode of Amy Sherman Palladino's "Gilmore Girls" premiered on the WB.
Throughout its seven seasons, the mother-daughter duo of Lorelai and Rory Gilmore attracted millions of fans who could not wait to see the latest events in the ladies' caffeine-filled lives in the tiny town of Stars Hollow, Connecticut.
Since the show's series finale on May 15, 2007, fans have been going through withdrawals. For over seven years, the only way to access this beloved show has been purchasing DVDs, going to the severely outdated WB website or tuning in to the ABC Family channel on weekday mornings.
That is, until now.
On Oct. 1, Netflix made available the series in its entirety. Now, "Gilmore Girls" has the chance to gain more fans in addition to reuniting with the old ones.
If you're still not thoroughly convinced that this is the best thing Netflix has done since creating their own programming, here are some reasons you should jump on the bandwagon:
1. Several people on this campus grew up with the girls of Gilmore
Many of your fellow Rams have Rory and Lorelai to thank for their mannerisms, pop culture references and coffee-addictions.
Mothers and daughters across the nation have attempted to find their own version of the idealistic relationship presented to us flawlessly by Lauren Graham and Alexis Bledel (Lorelai and Rory Gilmore).
Drop a casual reference or say that you wish your leg was haunted and odds are you'll have at least one person on campus asking if you're a Dean person or a Jess person.
2. For the last four seasons of the show, Rory is dealing with exactly what we are now – college
Season four begins with Lorelai and Rory preparing for Rory's first days at Yale, and throughout the rest of the series, Rory deals with classes, relationships and working at the daily paper.
Unlike many of the shows on TV now, "Gilmore Girls" portrays her college experience pretty accurately.
If nothing else, the show provides us with the perfect response to someone asking if you have a five-year plan after graduation:
3. The quick wit, fast talk and delightful, albeit occasionally outdated pop culture references
This show was one of the most fast-paced shows in recent history. The dialogue is so fast, in fact, that while the average script for an hour-long episode of television is usually 45 to 50 pages, "Gilmore Girls" averaged 75-80 pages, according to IMDb.
It also packed dozens of pop culture references in every episode. Ranging from well-known to completely obscure, every reference is well crafted and entertaining.
What's more amazing is that the writing is a perfect mixture of funny and relate-able.
4. To witness the humble beginnings of some of today's biggest actors
In addition to the two stars of the show, "Gilmore Girls" had an immensely talented supporting cast, the two most notable members being Jared Padalecki, from "Supernatural," and the all-around fantastic Melissa McCarthy.
Padalecki has "Gilmore Girls" to thank for introducing him to the WB-turned-CW community.
It's worth it to go back and watch early episodes of "Gilmore Girls" if only to see how young he was. Seriously, the then/now comparison is hilarious.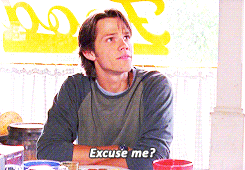 Since "Gilmore Girls" ended, Melissa McCarthy has rocketed to success, starring in "Bridesmaids," "The Heat" and "Identity Thief."
On the show, she played Lorelai's lovable and adorably clumsy best friend, Sookie.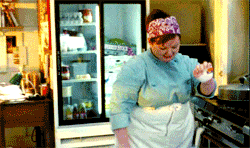 As the cold weather approaches, what could be better than curling up with a warm mug of coffee and watching a wonderful, feel-good show?
Though, is "Gilmore Girls" really just a show?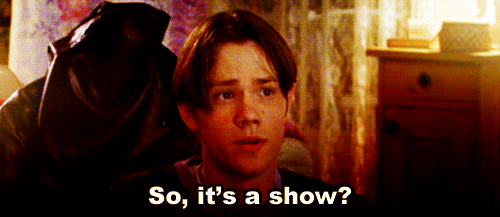 Gifs provided by giphy.com.
Collegian A&E Editor and Gilmore Girls super fan McKenna Ferguson can be reached at mferguson@collegian.com or on Twitter @McKennaMagazine.