Senior Capstone Concert: "Interlace"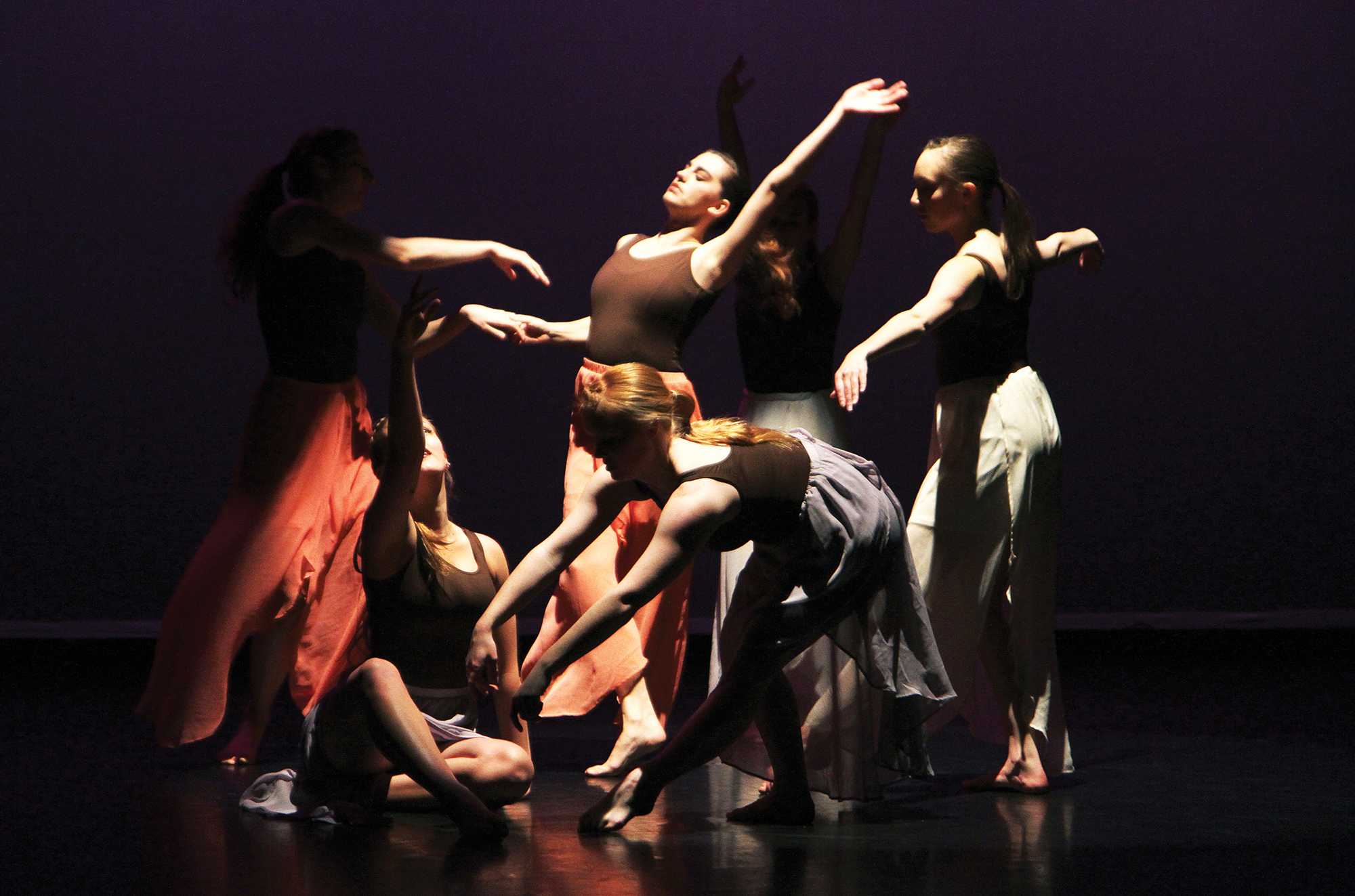 Put four wickedly talented young dancers together, tell them to create a show representing who they are and their time at CSU and you get this semester's Dance Major Capstone Concert, "Interlace."
The group, consisting of Alyssa Howell, Angela Wood, Bailey Ostdiek and Natalie Vinyard-Houx have put together their decades of dance and personal experiences to create the eight pieces they will perform Friday and Saturday at the University Center for the Arts.
According to a press release from the UCA, "This end of semester concert provides senior dance majors a chance to showcase their choreography, performance and production talents in this capstone concert event."
The performance works as part of the ladies' final. Each was required to choreograph both a solo performance and a group piece.
"It's kind of like our final project," Wood said. "We get graded, we've had weekly meetings discussing our progress, and after the concert we put together a giant portfolio about the whole process and our experiences from the past four years."
With each dancer bringing in her own personal point of view, the pieces have distinct styles. This is where the name "Interlace" came from.
"We were thinking about how different we are, but how when we come together and work together it works," Wood said. "It's like lace — it's different patterns and designs, but it comes together to make something really beautiful."
Each woman looked at something different in her life for inspiration and each brings her own unique point of view.
"It's definitely going to be unlike any other dance performance ever at CSU," Wood said. "It offers a lot of of variety and it shows our personalities; we're all very different, but the show is very cohesive and very strong."
Ostdiek, for example, was particularly inspired by music. She uses three different works in her group piece, including one original track created for her by a friend.
"I found a lot of great, unique instrumental music that I divided into three sections to create a nice little timeline of dance," she said. "It's kind of a representation of my own choreographic voice that I've found at CSU; it's quirky and uses a lot of my ballet training, but it's original."
Her solo is performed to a piece by Maxwell Hughes, a local guitarist here in Fort Collins.
Vinyard-Houx took a different route for inspiration, developing her pieces around dreams, nightmares and overcoming a traumatizing personal experience.
She described her group piece, entitled "Rapid Eye Movement"  as "a dream that turns into a nightmare." It also works as an allegory for her own fear about life after CSU.
"It's also kind of about my fears of graduating and going into the real world," she said. "It's the fear that comes with that and how that fear can consume me a bit."
In addition to choreographing and dancing, the women are directors and look over every aspect of the show. While the extra work may sound stressful, Howell says that it's been very rewarding.
"It's actually kind of cool," she said. "You get to be a part of all the different pieces and still get to dance, which is what we love to do at the end of the day."
After working toward these performances all semester, the ladies say they are nervous, but, above all, excited. A couple of them have family flying in just for the show; family who have not had the chance to see them dance in years, if ever.
"It really is an accomplishment and this is a nice, fun way to celebrate what we've done for the last four years," Ostdiek said. "Plus, it's actually entertaining for audiences. It's not some boring presentation. It's a lot of different styles and music, but it's cohesive and it's going to be a really great show. I'm very proud of it."
Collegian Staff Writer McKenna Ferguson can be reached at entertainment@collegian.com.