Semester at Sea really more of a Semester at Horsetooth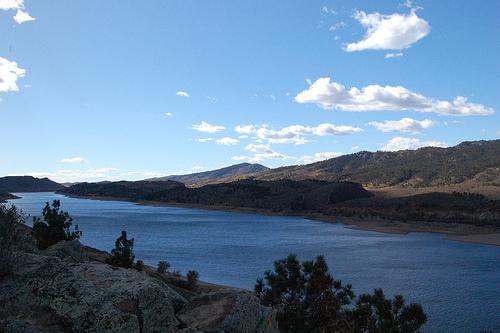 After returning from a Semester at Sea, sophomore Nicole Benson expressed disappointment that the majority of her time was spent at Horsetooth Reservoir. Benson was granted the trip after she impressed CSU President Tony Frank with an impassioned essay on how a Semester at Sea experience would benefit her learning, which so enthralled Frank that he impulsively promised her an all-expenses-paid Semester at Sea without bothering to check with the CSU Budgetary Office.
Upon being notified of this, the Budgetary Office immediately rejected the proposal and requested that Frank pay his dry cleaning bill.
Embarrassed, Frank immediately put together a far less expensive boat trip around Horsetooth Reservoir to substitute as a Semester at Sea for Benson. On his own dime, Frank purchased an 18th Century Man-of-War, christened it S.S. Guggenheim, and met Benson at the Old Horsetooth Pier at the start of the 2014 spring semester.
After five minutes of water survival training, Frank, Benson, Frank's Parrot, and the 101 year old First Mate, Professor Emeritus Belvedere Quincley, set sail for adventure, six credit hours, and ultimately, scurvy.
Unfortunately for the Guggenheim, things took a turn for the worse within hours.
"The first casualty was the parrot," said Frank. "I didn't know what to feed him, so I ate him."
Sources report that the second casualty was Benson's spirit, which Frank also ate.
"You know, after all our adventures together, I've come to look at you as something of a daughter," Frank reportedly told Benson half-way through the trip, before realizing suddenly and with abject horror that he had completely forgotten about his newborn daughter back home.
Fortunately for Frank's daughter, the trip was brought to an abrupt end by what Frank has called "an act of piracy."
The alleged pirates were later revealed to be members of the Fort Collins Coast Guard, who were just trying to tell Frank that it was illegal to sail a warship in a man-made lake.
"This is a peace ship!" Frank reportedly replied, as he desperately tried to cover up the bones of his dead parrot.
When the "pirates" attempted to board the vessel, Frank responded the only way he knew how — with his harpoon gun. After accidentally puncturing several holes in the Guggenheim, Frank and party were handcuffed and brought to shore.
Unfortunately, Frank was forced to fail Benson, as the two classes she had been taking on the S.S. Guggenheim were Ship Maintenance and Bird Care.
As of press time, Frank does not appear to have learned anything from the experience, as he recently promised a "Semester-at-the-Jurrassic-Era" to a junior animal science major.
"Here we go again," said Frank as he put the finishing touches on his Tyrannosaurus Rex sock puppet.
The Hall Monitor-Herald is written by Niles Hachmeister, Patrick Hoehne, Chris Vanjonack and Andrew Walker and can be reached at entertainment@collegian.com. Find The Hall Monitor-Herald online at thehallmonitorherald.com