All-Nighters and Comfy Recliners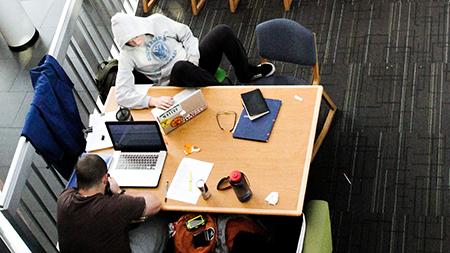 Based on the Ramtalk:
"How can someone be so greedy that one person uses two comfortable chairs in the library?"
Coffee shops are being ravaged, pencils are being sharpened and grocery stores are sold out of energy drinks. It's almost that time of the semester we're horribly afraid of: finals.
CSU students turn into strange creatures during finals. Refusing to eat, sleep or blink, students stare down at the same pages of notes until their eyes burst into flames. Every open space on campus big enough to fit a single student is packed with at least a dozen, and the library becomes its own ecosystem full of 5-hour energy drinks, espresso shots and horribly dehydrated students.
Given how comfortable some of the library chairs are, it's no surprise that students get to campus early for a chance to snag one. In a vast line that rivals those of Black Friday at Wal-Mart, CSU Rams eagerly await a chance to do their finals studying in a nice, plush chair. A student has no choice but to seek out the best seats in the library.
"I have Advanced Chronic Soriatic Backpain Disorder, or ACSBD," said Allison Dooworthy, a senior chiropractor major. "I can only sit in very comfortable chairs. If I sit in a hard, sturdy chair, there's a good chance I would die instantly."
Dooworthy is one of the lucky students at the front of the line each morning. She picks her favorite seat and goes straight to studying. Other students who receive the comfy chairs aren't as eager to settle.
Some students get greedy and grab two, three, even four comfy chairs and string them together for their own enjoyment. Russ Griff, a senior communications major, doesn't care if anyone else gets the comfy chairs in the library, as long as he gets five of them.
"I need a chair for each of my limbs and one for my torso," Griff said. "I like to relax."
An even cleverer group of students, the engineering majors, decided that multiple chairs are not the answer. Armed with a tool belt, calculator and brain full of knowledge, these students enter the library with only one thing on their mind: building the comfiest chair in the whole school.
When junior Engineering major Ollie Spurrs was given a simple yet comfortable seat, he took it to the next level. One plasma screen TV, two cup holders, one popcorn-maker and three inches of premium memory foam later, Spurrs came up with the best studying seat ever devised. Or not.
"I don't get any studying done anymore," Spurrs said. "Every time I come to the library it's just to eat popcorn, watch TV and enjoy this super-comfy seat. I miss my old, boring chair."
Thankfully, finals week is just that: a week. We don't have to deal with the madness for too long. But, for that week, beware of the library. It will be packed, it will be intense and it will be full of students awkwardly laying on multiple couches.
Collegian Entertainment Reporter Steven Jacobs can be reached at entertainment@collegian.com.