In its fifth year running, the Transformer Cabinet Mural Project has now had seventeen artists and one non-profit group take part in painting bright and active murals around Fort Collins on utility equipment.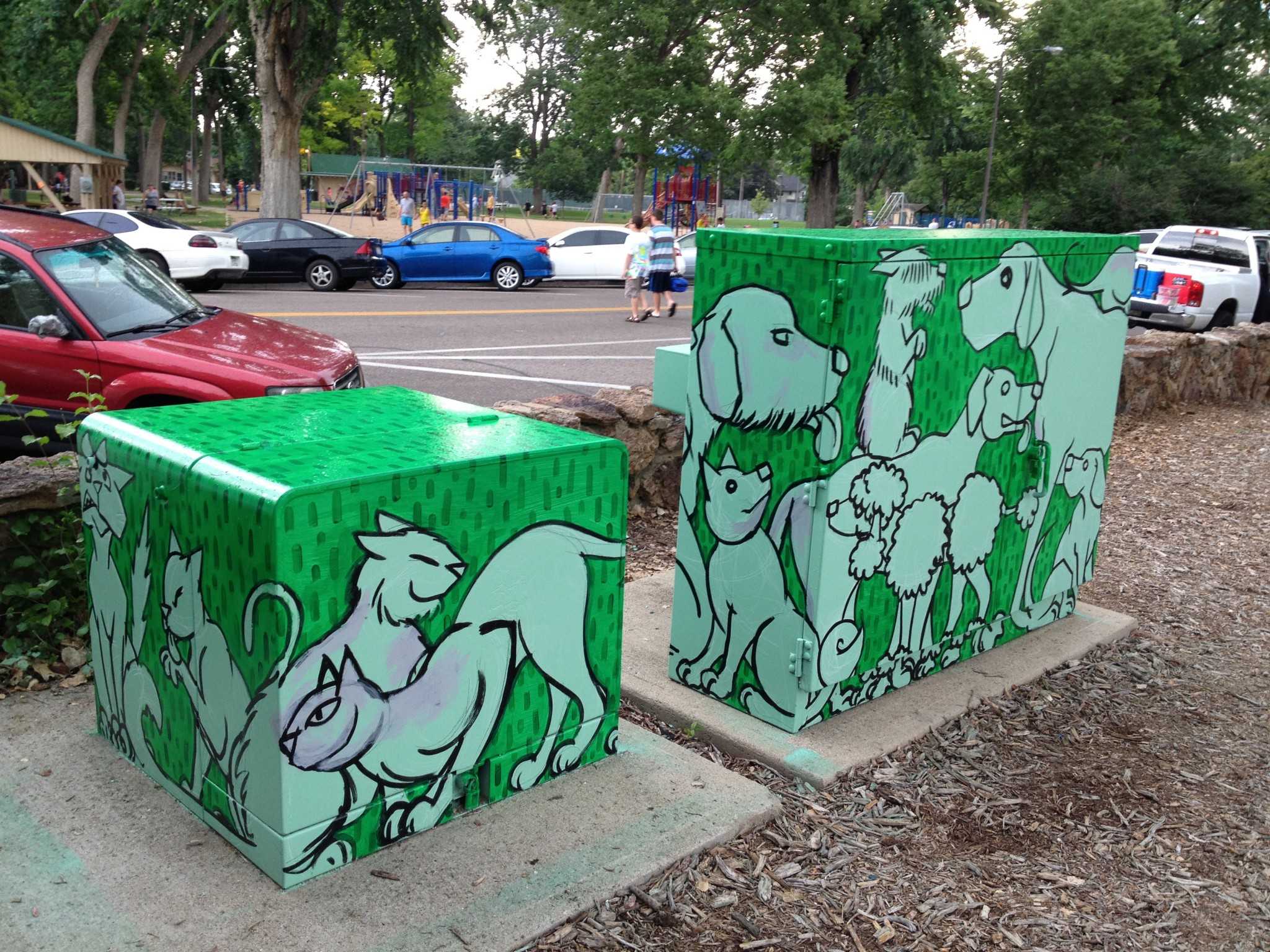 The graffiti abatement program launched in 2006 as a joint venture of the Fort Collins Art in Public Places Program and Utilities Light and Power Department, and has been enjoying great success in lowering maintenance costs since.
"The utilities department says that us painting the boxes, even after paying us, saves the city over $200 per box per year over the life of the box," said Amelia Caruso, local artist and painter of five transformer boxes.
The artistic project has reduced graffiti and has been estimated to have saved up to $130,000 over the life of one transformer box.
"It's already saved a lot of money. Every time the unpainted cabinets were tagged or covered with graffiti, which was almost every weekend, someone would have to come and sand it down and paint over it. Lots of money was being spent and now that they're painted, people don't tag them nearly as much as before," said Ren Burke, local artist and painter of seven transformer cabinets and three pianos.
This season, 22 transformer cabinets alone have been painted alongside the Pianos About Town project, in which artists will be painting new murals on public pianos every two weeks from May through October.
"These boxes promote community and ownership. Every time I have painted a box, at some point over the rest of the year, someone comes to me and says, 'You painted my box.' That ownership leads to safer communities and more vibrant interaction in the neighborhood," Caruso said.
"All art is street art eventually. It comes down to participation," Caruso said. "Be it a music busking on a street corner, a graffiti artist's painting on a train or a known artist working in their studio, it all comes down to people seeing the work and to do that, sometimes you have to get out there on the streets."
"I think street art is wonderful. It's an honor for me to be able to get my work out there in a very public venue. It's a great venue for artists to get their art out but I also think that it's important for the public to see and have artwork as a part of their daily experience. So many people think that paintings belong in a gallery and that they'll never see them but this way, people can just pass by everyday," Burke said.
"This program is innovative in its use of art to help solve the social issue of vandalism on city property," said Ellen Martin, the visual arts manager of Fort Collins. "This is being achieved while simultaneously supporting our rich resource of local artists."
"This program was featured in 2008 at the National League of Cities Conference. Since that time, we get calls from APP programs and communities from across the country interested in starting similar programs. In the last few years, Loveland and Longmont have started similar programs."
View the artists' progress at: www.fcgov.com/artspublic.
Gemma Parry is an exchange student from Swansea University working for the Collegian this summer.