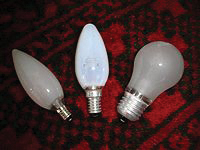 What: Lightbulb exchange
Where: Johnson Hall, room 108
When: Friday, Dec. 7
Times: 2-3 p.m.
Cost: Free
We're a green campus, but living green isn't always convenient. Saving the environment can be expensive, time-consuming, or just plain annoying. That's no excuse now to have power-sucking incandescent light bulbs though; you can exchange them for free CFL bulbs at Johnson Hall. Another suggestion is turning your bad bulbs into ornate ornaments. 'Tis the season!
What: Ambassador Wolf
Where: Bar SS in Laporte
When: Friday, Dec. 7
Time: 9 p.m.
Cost: $5
Remember Ambassador Wolf from Tuesday's Collegian cover? They're playing this Friday at Barr SS in Laporte. Where else are you going to get the opportunity to see grown men — and employed engineers, no less — wear wolf heads and howl at a barful of people? It's $5, so head on over and party like an animal.
Learn more at www.facebook.com/ambassadorwolf
What: First Friday Gallery Walk
Where: Downtown Art Galleries
When: Friday, Dec. 7
Times: 6-9 p.m.
Cost: Free
It's First Friday again! This only happens once a month, so make sure you don't miss it. Take a self-guided tour of the Fort Collins art scene, grabbing some free refreshments on the way. Most galleries will change up their exhibits around this time, so there'll be plenty to see.
What: Biodiesel for Bands Launch Party and Fundraiser
Where: Hodi's Half Note
When: Friday, Dec. 7
Times: 8 p.m. – 1:30 a.m.
Cost: $5 – $10 suggested donation
Biodiesel for Bands is an organization dedicated to reducing the carbon footprint of touring bands, and allowing them to travel more economically and efficiently. They do this by supplying bands with high-quality biodiesel. That stuff isn't free, so they're having a launch party and fundraiser at Hodi's Half Note, featuring Post Paradise, Mosey West, the Mason Howlings, and Wasabi. Save the environment and enjoy good music for a donation of $5 to $10.
Learn more at www.facebook.com/pages/Biodiesel-for-Bands
What: Dance Major Capstone Concert 2012
Where: University Dance Theater, UCA
When: Friday, Dec. 7; Saturday, Dec. 8
Times: 8 p.m. both nights, 2 p.m. Saturday afternoon
Cost: $14 for adults, $10 for students, $9 for youth under 17
Many seniors are moving quickly toward the end of their college careers, and dance majors are no exception. While they, like many, write a thesis paper, they also put on a performance to conclude their studies. The page on Central says, "With over thirty CSU dancers, musicians, designers and technicians contributing, this innovative program promises an exciting look at our up-and-coming performing artists." Show support for your fellow students and have a good time while doing it.
Learn more at www.central.colostate.edu
What: Fuzzy's Snowrider Taco and Superheroes of Stoke
Where: Fuzzy's Taco Shop
When: Saturday, Dec. 8
Times: 7 p.m., movie starts at 8 p.m.
Cost: Free
Who doesn't love tacos? If you said you don't, you are a liar. This Saturday, head over to Fuzzy's on Elizabeth and watch a free Match Stick Productions movie premiere, "Superheroes of Stoke." Hosted by Snowriders, this movie features the progression of skiing and snowboarding over the last 20 years, as well as some serious stunts in the snow. There will also be raffles and giveaways. Show up early to get a good spot and a taco. The tacos are not free, but they're totally worth it, not to mention some of the proceeds will go to the Snowriders Club! Plus: drink specials. What else do you want?