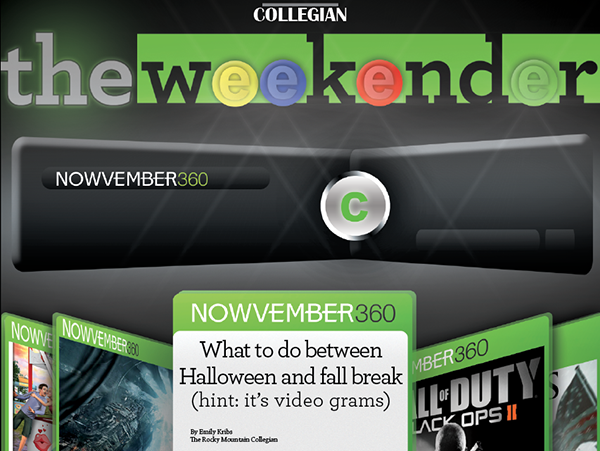 It can be universally acknowledged that there isn't much going on between Halloween and fall break, except No Shave November. Growing hair doesn't take a lot of concentration, though.
Maybe it's that the weather is cold, the leaves have fallen and the holiday season is still weeks away, but early November is prime time for blockbuster video game releases. As long as you're forgoing any meaningful social interaction, you might as well take a look at some of these titles.
Game: "Halo 4"
Release Date: Nov. 6
Good for: "Halo" fans, sci-fi fans, first person shooter fans, actual space aliens
It's the season of sequels, and first up is "Halo 4," which, in a shocking turn of events, is actually the seventh "Halo" iteration (The reissue of "Halo: Combat Evolved" doesn't count.).  Unless you play for the plot, feel free to hop right into the multiplayer like everyone else. All you really need to know is you want to shoot the other guy, and you're golden.
Game: "Call of Duty: Black Ops 2"
Release Date: Nov. 13
Good for: First person shooter fans, zombie fans, everyone who can't get enough of CoD and people who have never played CoD before in their life
As much as you loved the other CoD games, it's time to move on lest you find yourself in an empty server. "Black Ops 2" covers the Cold War and some future war — this game's not for the optimistic — with lots of new guns, and the return of the much beloved Zombies mode first featured in the original CoD "World at War." Admittedly, that would've been nice around Halloween, but don't let that stop you!
Game: "Sims 3: Seasons"
Release Date: Nov. 13
Good for: The terminally lonely
Thanks to the Sims, you've got it all: a beautiful house, a white picket fence, an attractive partner who is also a vampire alien and a golden retriever that occasionally glitches into some kind of spidermonster from the darkest depths of CGI hell. What with the Holiday, Showtime and Pets expansion packs, the only thing you were missing was snow. Not any longer, because with the Sims' new Seasons expansion you, too, can have weather — just like we've had in the real world since forever.
But for real, the only reason I've never had Sims is because I know I'd emerge from my room to discover the rest of humanity was wiped out a decade ago. Rock on, Sims players.
Game: "Assassin's Creed 3"
Release Date: Oct. 30
Good for: "Assassin's Creed" fans, people who can't be bothered to climb real trees, those who can't be bothered with an accurate history of the U.S. Revolution
Sure, it was released Tuesday, but if you've been sleeping and going to class like you're supposed to, you probably haven't finished this yet.  The "Assassin's Creed" series, or as my friend Logan called it, "The game that makes genealogy seem interesting," continues to the New World where you follow Ratonhnhaké:ton (ra-doon-ha-gay-doon), otherwise known as Connor Kenway, and his life of death during the Revolutionary War. The modern day parts won't make much sense without having played the other AC games, but anyone can enjoy climbing trees and knifing redcoats.