Rocky Mountain ski season begins as Breckenridge, Keystone open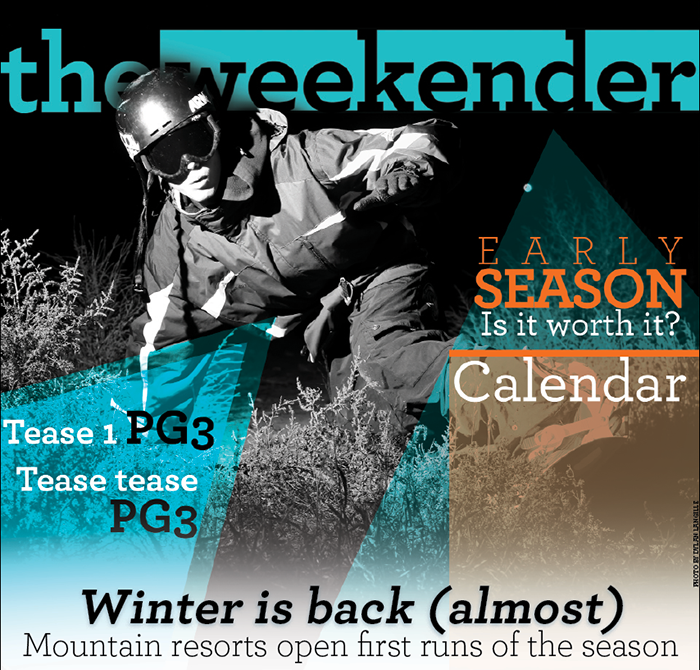 It's almost the best time of year again for any Coloradan who takes advantage of those massive things popping out of the ground all over our state. The mountains have officially begun to open up for the 2012-2013 ski and snowboard season.
It may be a long drive from the Fort to most of the ski resorts in Colorado, but nowhere else can you get that Rocky Mountain high that comes from careening over the edge of a snow-packed peak. Luckily, there are some incentives to braving the gas prices and I-70 traffic early in the season…
Loveland
Loveland tries to open as early as possible every season, but won't sacrifice snow quality or coverage, according to John Sellers, marketing and communications director for Loveland.
Currently boasting an 18" snow base and two top-to-bottom runs, Loveland has several deals on Ski and Stay packages for the early season, found at lovelandreservations.com.
Through Dec. 14, full day lift tickets are $49 compared to regular season pricing of $61. Skiers and snowboarders can also get a "4-Pak" of tickets for $129, available for purchase through Nov. 18.
"Our '4-Paks' are unique because they are actual lift tickets that can be used by anyone on any day of the season," Sellers said.
Loveland also offers a 2-for-1 midweek lift ticket deal in the Campus Cash coupon book.
Sellers said CSU students should make the trip to Loveland for early skiing and riding because they can avoid crowds, find two full runs and a terrain park open, and the groomed snow is "fantastic."
Arapahoe Basin
According to Adrienne Saia Isaac, marketing and communications director for A-Basin, they open each year when they can provide fun and safe on-mountain conditions and are able to remain open through the duration of the season.
Early season full day lift tickets are available through Dec. 21 for $64, compared to regular season pricing of $79. Two-season "Double Down" season passes are also available at a reduced price of $499 through Dec. 31.
For those of you itching to ski or snowboard for your very first time, A-Basin is holding Value Season Private Lessons for 5 hours and up to four people for $290, or for 3 hours and up to four people for $165. Both deals are available only until Nov. 16.
"Early season can be tough when the mountains don't have a lot of terrain open," Isaac wrote in an email to the Collegian. "But once you get up here you remember why you make that trip.
"It's that feeling of freedom you get when you ski or ride (either solo or with your pals), of escaping the madness of school or work and instead getting out into that crisp Summit County air on a bluebird day," Issac added.
Copper Mountain
Copper is throwing out some sweet deals for early season skiing and lodging, including up to 60 percent off regular season pricing.
Their "Snow Day Guarantee" allows you to buy two nights of lodging and get a third one free. You receive free afternoon lift tickets for the day you arrive, and a you get a free Woodward at Copper introductory session. Copper will also upgrade your lift tickets to "Secret Passes" which let you go to the head of the line. Steezy, right? (That's snowboarder slang for "great," or something.)
Copper is also hosting some fun-tastic early season events. The 11th Annual Leftover Yam Jam, Copper's first rail jam of the season, will take place Nov. 24 and is open to professional and amateur skiers and snowboarders. Happy Thanks-jibbing!
Keystone
Keystone offers discounted pricing on four-night lift and lodging packages through early December. If you book during the mid-week, prices start at $608 person, breaking down to $152 per person per day for a full day lift ticket and lodging.
Don't miss out on early season events at Keystone such as Military Appreciation Days Nov. 10-12, when military personnel and their family will receive a special lift ticket rate of $59 and discounts at food and beverage outlets.
Also, check out all the latest gear at Snowboard Demo Days at Keystone, Dec. 1-2. There is no cost to demo the gear, but a lift ticket or season pass is required to access the mountain. (Duh).
Breckenridge
According to Alysa Hetze, communications coordinator at Breckenridge, their opening day is determined through discussions with the U.S. Forest Service (USFS), since Breckenridge operates on USFS land.
Hetze said the Epic Pass, which includes season tickets to Breckenridge, Keystone, A-Basin and limited days at Vail, Beaver Creek and two mountains in Lake Tahoe, is currently on sale until Nov. 18.
"Perfect for opening weekend, early season deals are available at a selection of lodging locations from ski in/ski out to mountain getaways," Hetze said in an email to the Collegian. These deals start as low as $99.
Breckenridge will celebrate its opening day today with several activities including free cinnamon roll samples, a live broadcast from KSMT, drink specials throughout the day, locals DJs and a moment to honor veterans.
"Opening day is really a benchmark day to celebrate winter returning to Breck and to share the excitement for the upcoming season," Hetze said.
Mountains Open Now
-Loveland: 5 runs open, 1 terrain park open
-Arapahoe Basin: 2 runs open, 1 terrain park open
-Copper Mountain: 3 runs open
-Keystone: 4 runs open
-Breckenridge: 2 runs open
Opening Dates for Other Mountains
-Winter Park: Nov. 14
-Vail: Nov. 16
-Eldora: Nov. 16
-Beaver Creek: Nov. 16
-Wolf Creek: Nov. 17
-Steamboat: Nov. 21
-Crested Butte: Nov. 21
-Monarch Mountain: Nov. 21
-Aspen/Snowmass: Nov. 22
-Telluride: Nov. 22
-Ski Cooper: Nov. 22
-Durango Mountain: Nov. 23
-Echo Mountain: Nov. 30
-Silverton Mountain: Dec. 1
-Powderhorn: Dec. 13