Enjoy a Fort Collins evening at the cabaret
"Show me how you burlesque," Fort Collins.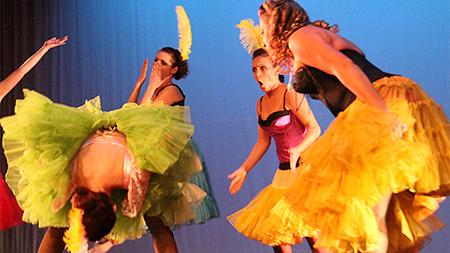 The High Performance Dance Theater (HPDT) has collaborated with lyrical rock band The Key of Joy and the Cupcake Cabaret burlesque revue to present a cabaret-inspired show tonight and tomorrow at the Lincoln Center.
According to HPDT founding member Stacy Montes, the dancers will be performing a variety of works, including a playful piece to the song "When You're Good to Mama" from the musical "Chicago," and a can-can number from the musical "Moulin Rouge."
Montes said the show, which is for ages 16 and older, will be more "PG-13" and appeal to college students more than previous shows.
"When we decided we'd be doing cabaret-style work, I know the ladies from Cupcake Cabaret and just asked if they'd like to be our guest artists and do a few pieces," said Kim Lang, artistic director at HPDT.
According to Allison Ahlm, co-founder/dancer/singer for the Cupcake Cabaret, three of their members will be participating in the show, performing a total of three burlesque dances.
"The trio is doing more of a traditional burlesque piece — slow, bluesy sound with feather boas,"  Ahlm said. "No striptease though, just a dance number."
There will also be a solo dance and a duet. Both will be high-energy samba-style dances which originate from Brazil.
"It's a really fun, sassy, sexy evening and definitely a girls' night out or date night show," Lang said.
HPDT has also collaborated with The Key of Joy for several years. Mason Bassuk and wife Lauren Bassuk started playing music together six years ago in Fort Collins and currently make up The Key of Joy duo.
"We'll be providing stylistic burlesque and cabaret-style music between the different scenes essentially," M. Bassuk said. "It's a nice transition because then the audience has continuous live action going on."
Montes said dance groups in the Fort Collins area are very strong.
"I would like to see more support from the community and have people know that we are just as good as companies coming in from out of state."
"I'm not sure if a lot of CSU students know how much Fort Collins has to offer in the arts department," Ahlm said. "It's a very diverse show so it gives students a chance to see what's out here in our community."