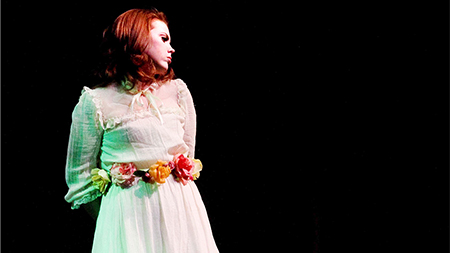 Take away the set and the props of a theatrical performance and what do you have? An opportunity to get up close and personal with the struggles and confusions of 19th century 14-year-olds in CSU's newest production, "Spring Awakening."
This play breaks the conventional rules of theater.  A forest is made of green light, a courtroom bathed in blue and a dive into the confused minds of teenage boys turns bright, almost blinding, pink. There is no set, no furniture and no props.
Challenging at first, the lack of concrete set gave actors the freedom to imagine the space.
"Working really simplistically forces you to focus on what you're doing as an actor in the scene with your body," said Mary Kate Tracey, sophomore chemical engineering major. Tracey plays Wendla, an innocent and naïve girl who begs for understanding of the adult world in the play.
The play is advertised as "In-your-face" theater, a style that provides close contact with the controversial themes of rape, suicide and sexual awareness.
"There are rules in social situations. The great thing about theater is we don't have to have those rules," said Garrett Ayers, guest director.
"Spring Awakening" was a risky move for the CSU Theater department because of the controversial content, however, Ayers brings an important lesson to the CSU stage.
"It's a children's tragedy because they're the innocent ones, and not innocent in the sense that they don't bear responsibility for their actions, but that they're depending on all the adults to be role models for them," Ayers said.
"If it's a warning for anything is a very simple one: you have no control over what will happen to your child but you know that they will grow up. It's a reminder that says regardless of your point of view, make informed choices out of love," he said.
Junior theater major John Erickson plays Moritz, a stumbling, misunderstood boy who feels pressured by his parents and teachers.
Erickson compared the world of the play to today's society.
"People still aren't comfortable talking about those themes, and thus a lot of those same accidents happen. (The play) is like the "It Gets Better" campaign; it's about finally telling people information that they should know, but no one's ever told them," Erickson said.
Some members of the cast are roommates; others had never met until auditions. For a guest director and a cast of friends and strangers, trust had to be the ultimate goal for a good performance.
"Everybody has just jumped in; the enthusiasm is something that I've loved," Ayers said. "It's been a real treat for me and it's made me a better director."
The energy has been challenged within the past week.
On Oct. 7, junior environmental health major Jason Laub was hit by a car while biking to the UCA to get ready for performance that night. Laub is in the male ensemble of the cast, playing both a student and a professor.
The accident occurred on Elizabeth and Taft hours before curtain. Laub had minor injuries to his knees and wrists after jumping off his bike to avoid the car coming out of a parking lot, but instead rolled over the hood of the car.
"The girl who was driving the car was nice enough to give me a ride to the UCA," Laub said. "I was still in shock; after about half an hour the pain started to settle in. Our stage manager got a first aid kit, I took a few ibuprofen and went on stage."
This is the third time in the past year that CSU theater students have gotten into car accidents on the day of a show, Laub said.
"I'm always so impressed of doing shows here because of the professionalism and the dedication," Laub said.