University Orchestra performs musique classique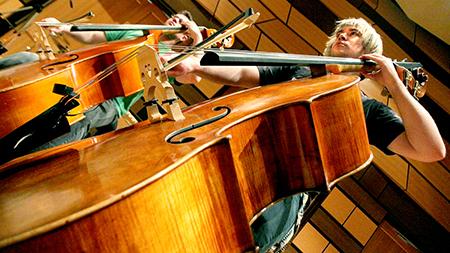 The University Symphony Orchestra will prove tonight that French music isn't just about the can-can in their first performance of the season.
The performance will begin with the fast-paced "Roman Carnival Overture" by Hector Berlioz. CSU faculty Wesley Ferreira will join the symphony orchestra for the first time during "Clarinet Concerto" by Aaron Copland. In the final performance, the ensemble will be joined by CSU faculty Joel Bacon for Camille Saint-Saens' "Organ Symphony."
"It's great showpieces for orchestra. It's loud and it's exciting, fast music. There's a lot of beauty to it as well," said Maestro Wes Kenney, the conductor for the performance as well as the Director for University Orchestras.
"If you're looking for top level orchestra music, this is the place to come," he said.
The pieces cover a broad time span in the development of French symphonic music.  The earliest of these was that of Berlioz, after which French symphonic music almost came to a stop until Saint-Saens "Organ Symphony" was written in the late nineteenth century.
"This is one of the great pieces for organ in orchestra. The organ that is in it is perfectly suited for the piece.  It comes in rather quiet and mysterious and is a bit of a surprise, but at the end it's very triumphant," Bacon said. "It's a lot of fun to play."
The organ being used was a donation to the University in the last year and has not been used in Griffin Concert Hall before, according to Kenney.
The most recent of the three pieces is Copland's "Clarinet Concerto", written in the 20th century during his studies in Paris with Nadia Boulanger, one of the great French composition teachers.
Copland originally wrote the piece for American jazz clarinetist, Benny Goodman, who has been called "the king of swing" but wanted to try playing classical music, according to Ferreira.
"It's one of the most beautiful pieces in the 20th century," Ferreira said. "This is one of the more challenging pieces for orchestras to play. There are a lot of jumps and leaps and all the parts have really important, independent lines."
Ferreira also described the piece as being very lyrical with Brazilian rhythmic qualities.
There are 74 students in the orchestra ranging from freshmen to second year graduate students. Some of the performers in the orchestra are not music majors, and each student had to audition to become apart of the Orchestra, according to Kenney.
"When you're performing with the orchestra you can tell that the students look up to (Kenney), and as a soloist coming into an orchestra to perform, you can tell there's a level of preparation and professionalism," Ferreira said.
"The great thing is that an orchestra can play just about anything, and to see students making this music come alive is very exciting," Kenney said. "This high level performance experience gives them a point by which they can take any other musical experience that they're involved in and move it forward."