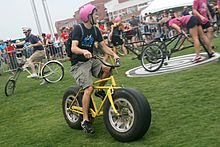 Wake up and dress up
Let's say it's Saturday morning, the sun has barely pulled itself over the plains and you're about to ride in your first New Belgium Tour de Fat.
Now what?
Since you need to be in Civic Center Park to register for the parade soon, you start getting ready. Looking into your closet, pondering your daily wardrobe, nothing looks right. No, not for today. It's Tour de Fat — crazy is expected.
Men, have you always wanted to dress like '80s-era Madonna? Strap on that cone bra. Is your secret wig collection starting to collect dust? Today's the day to show it off. Or maybe, ladies, you want your guilty obsession to see the light of day, so team up with 49 of your friends and ride in the parade as "Fifty Shades of Grey." Don't worry — there will be no judgment.
Because as New Belgium's Tour de Fat philosophy says, "When everyone is weird, no one is."

Ride on and register
Do you look wild enough? Would your parents be embarrassed if they saw you? Good — you're ready to go.
You hop on your bike and head toward Civic Center Park to register. Registration starts at 9 a.m. in the park and the parade kicks off at 10 a.m. on Meldrum and Maple Street, so you'll want to get there early.
Except you wanted to take your time and grab breakfast at Lucile's before, so you remember that you already registered online at www.bikefortcollins.net. After some strong coffee and crisp, sweet, chewy beignets, you ride up a few blocks to the starting point.
Peddle in the parade
This year's parade route is less than five miles, sweeping west down Mountain Street, through City Park and then back on Mountain, ending again on Meldrum Street. But it's far from a quiet morning bike ride — according to Tour de Fat promoter Matt Kowal, 20,000 people are expected to be riding in this year's Tour.
As you ride through the loop, you're surrounded by a sea of joyous eccentricity. Male Madonna just pedaled past on your right, a human hot dog is a couple feet ahead and you're pretty sure that guy behind you is naked.
Senior natural resources major Leeland Murray also rode last year, and he says, "The excitement and creativity of people and their costumes is what makes the Tour de Fat so much fun to be in."
You agree, and you're excited to see what's next.
Rejoice in the Revelry
Riding toward the last stretch of the parade route, you're surrounded by a festive, carnival-like air. There's music playing, jugglers and unicyclists showing off their stuff  and decorated bicyclists celebrating the rich spirit of Fort Collins.
You're hungry, so you grab something from one of the many local food carts serving up their goods downtown just for the Tour. The Waffle Lab truck located next to Pateros Creek Brewing Co. isn't always around, but for the sake of its sweet and savory chicken and waffles, you're hoping it is today.
And since you happen to be of legal drinking age, you decide to end your first Tour de Fat with what started it all: a cold pint of New Belgium beer.
Related articles