Colorado State Shakespeare at Sunset, er, Ren and Stimpy?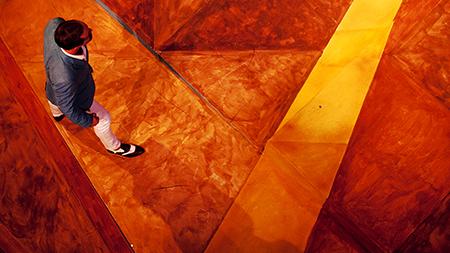 Colorado State University Theater opens up the season with their annual Shakespeare at Sunset with a production of "A Comedy of Errors".
Candice Ingold was asked to guest direct the show. After travelling as a teacher and director for eight years, she will be returning to the department as an adjunct professor this semester.
"It's an opportunity for me to work with my mentors who I can now call colleagues and have accepted me with such opening arms," Ingold said.
Coming back to CSU, for her, means coming back home.
"This show really hits home for me because I am an alumni from CSU. At the time, we were fighting to get the UCA built. To now see this beautiful space and direct in it is a dream come true," she said.
"A Comedy of Errors" is about two sets of twins that, through the mistakes of their friends and acquaintances, come to know of each other's existence. With a lack of twins in the CSU theatre department, some optical illusions had to be made.
"It's been really interesting to come up with two characters that are parallel to each other but have to be different," said Nick Holland, senior theatre major, who plays both Dromio of Ephesus and Syracuse in the show.
"It's a lot like Ren and Stimpy. I always hoped that I would get to play Stimpy at some point in time," he said.
Ingold was asked to give her personal twist on Shakespeare, a twist that isn't normally paired with classic Shakespeare text. Then again, CSU has never been one for ordinary Shakespeare performances.
"In my opinion, it's 1920's silent film meets Tim Burton," she said.
According to Costume Designer Janelle Sutton, each character has an absurdity in their outfits common in Burton films. This absurdity, whether it is hula hoop pants or a large bow tie, adds to the comedic element of the show.
As a guest director, most of the cast and crew have not worked with Ingold before. This is their first opportunity to work together before Ingold comes to teach at CSU. Students were excited to work with her and explore her concept for the show.
"It's such a breath of fresh air," said Alex Romberg, a recent graduate of CSU theater. She plays timid but feisty Luciana in the show.
CSU alumni Mike Largent has worked with Ingold before when she was an assistant director for the show "Ladies Man." Largent plays both Antipholus of Ephesus and Syracuse in the show.
"As the main director, it's been great. She's offered a lot of freedom and room to grow and create," Largent said.
"My actors are amazing. It was something that I couldn't do without them and was a really collaborative effort," Ingold said.