Extreme Mustang Makeover: CSU alumna trains a Colorado mustang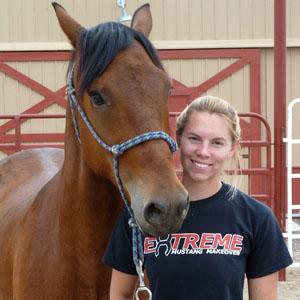 Note: This story is part of a series on the Fort Collins Extreme Mustang Makeover event. For an updates on Taryn and Meeker's progress through the makeover, check Collegian.com.
He's never been ridden. The brown mustang with a black mane seems unsure, as he stands watching his trainer enter the stall, about whether he should move away or stay where he is. He flinches when touched, at first, but slowly allows her to stroke his side and his nose.
The longer she stays, the closer he stands to her.
The mustang, Meeker, and his trainer, CSU alumna Taryn Hillman, met each other only 90 days ago. As part of Fort Collins' annual Extreme Mustang Makeover, Hillman has temporarily adopted Meeker to train him and make him suitable for adoption.
This weekend, 50 trainers like Hillman will gather at the arena of CSU's B.W. Pickett Equine Teaching and Research Facility to showcase and compete with the mustangs they have been training since March. Workouts and classes on Friday and Saturday will culminate with the announcement of 10 finalists on Saturday night.
The winner will receive $12,500 in prize money. On Sunday, the mustangs will be auctioned to anyone who wants to adopt one, although trainers have first dibs. Ultimately, the program aims to find good homes for mustangs, according to Patricia Burge, a former CSU professor who
brought the Mustang Makeover to Fort Collins.
The Mustang Makeover event exists in several locations throughout the country, and is organized through the Mustang Heritage Foundation. Mustangs are routinely rounded up or "gathered" by the Bureau of Land Management and kept in holding facilities. The MHF seeks to facilitate the adoptions of these gathered mustangs through the makeover.
Beyond helping the mustangs, the program also gives trainers a chance to prove their skill. With a tight deadline and horses that have never worked with people before, the trainers must have the patience and the gentleness – non-humane training methods are forbidden – to make the mustangs adoptable.
"It's about knowing a horses' nature," Burge said. "You let the horse think it was his idea when you started training. It's not about control, control."
Trainers receive up to $700 in reimbursements for the cost of feeding and caring for the mustangs, although they pay $200 to adopt the horse initially. Many start the program for the money, according to adopter Megan Jones, but stay because they get hooked on mustangs.
Tayrn got hooked five years ago. She had already worked with horses through the Loveland therapeutic riding center Hearts and Horses and the youth riding group the Westernaires, but she found the makeover and decided to try it out.
She has since participated in five different makeovers, some during her time as an equine science and business major at CSU, and has adopted three of the mustangs she trained.
Training Meeker
Each trainer has an individual process for working with the mustangs. Hillman's involves several steps. The first is to get the mustang to acknowledge her presence and pay attention to her. Then she waits for the mustang to approach her.
Standing in a field for hours waiting patiently for a mustang can be frustrating, she admits, but she says it's important to earning the horse's trust.
"It takes a long time to get their trust, but one you get it, they come along quicker, I think," Hillman said.
After the horse approaches her, Hillman adds new stimuli one at a time including touch, lead rope pressure, the saddle, and finally, riding.
For Meeker, the process has gone slowly.
While most horses approach Hillman after a few weeks, Meeker took two months. He's been cautious and frightened, and as a result, Hillman is still working with him on more basic elements of training: getting used to a blanket, being touched, and getting comfortable with common arena equipment like cones, posts and flags.
Hillman has worked with other mustangs, but each adjusted more quickly to training. In the past, she's been able to ride in the competition, but Meeker hasn't even worn a saddle yet, so this time, Hillman will have to sit it out.
She's admits that's disappointing.
"This year I think if he could have come around faster, he could have done pretty well," Hillman said.
Still, she says wouldn't go back and force Meeker to accept training before he was ready.
"It's hard to be here and not be able to ride, but I did better by him."
Instead, Hillman brought Meeker to the makeover to help him get used to new surroundings and people. If all goes well, Hillman is hopeful that she may even find someone at Monday's auction who would want to adopt him once he's finished his training.
Meeker's first day
Before he can get to the adoption, though, Meeker must adjust to the Equine Center. On Thursday, Meeker has a lot of firsts: first stall, first new people besides his trainer and her family, first sight of horse jumps.
True to his character, all the unfamiliar stimuli makes him nervous. As he stands in his stall Thursday afternoon, he shifts at unfamiliar noises like passing vehicles, talking people and rain on the metal roof of the barn.
Hillman says that he has been alert and unsure since they arrived. When she took him out for a walk in the morning, he spooked at the sight of a trainer riding one of the other mustangs.
If he continues to struggle, she'll take him home, but she's going to wait to see how he adjusts.
"At this point, my goal is to keep him calm," Hillman said. "If he seems to be doing well, I'll keep him here."
One of the training theories that Hillman follows is that each new experience for a mustang should end on a good note. If the lesson is touch, and the mustang is flinching away, she'll stay until the mustang accepts the touch calmly or at least relaxes.
The makeover, too, needs to end on a good note, she's decided. That means that if Meeker gets too nervous, she'll calm him down, and then take him home.
On Friday, she plans to take him to one of the training sessions. Stormy Mullins, a special guest and part of the MHF is attending the makeover to lead workouts, and a handling and conditioning class will follow.
Hillman wants to walk Meeker through the class. If he makes it, he will stick around a little longer. He won't be able to compete, since Hillman can't ride him, but he'll have made progress.
In an outside enclosure on Thursday afternoon, Hillman is exercising Meeker when another trainer and mustang enter the area to ride. Hillman stays to see if Meeker will adjust. As the rider circles, Hillman and Meeker rotate so that the rider remains visible.
A few times, Meeker gets nervous and pulls away from Hillman, kicking his feet and jerking his head to tug at his rope.
Mostly, though, he does well. After only ten minutes, he's not panicking when the rider passes.
"Good boy," Hillman says and strokes Meeker's nose as he stands still watching the rider.
It's the good note Hillman has been waiting for. Not long after, she returns Meeker to his stall. Friday they'll go to handling class.
Related articles