Do you need a bridal party?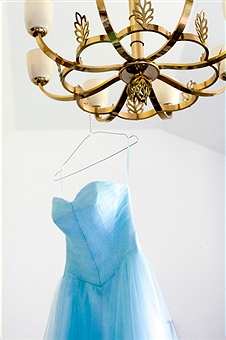 Getting married is one of the most exciting moments in a person's life. Every one is happy for you and it seems like the party will never stop. However, as this new article from Today addresses, this hype eventually goes away. Once the actual planning process begins, the sparkle starts to dull a bit. It can be stressful trying to make sure you get everything right. So, why not take advice from newlyweds who have already been in your same situation?
One common problem brides face is deciding whether or not to have a bridal party. It seems like a no-brainer to have one. It's tradition of course. However, brides are beginning to realize that bridal parties may not be all that interesting, and here's why.
You will avoid hurting anyone's feelings. You can't put everybody you love in a bridal party. Leaving somebody out is sure to leave them feeling unimportant. However, if you choose to not have a wedding party, you can avoid this problem altogether. Going without the groupies for this reason may seem dramatic, but it's one way to avoid the issue.
You will save your friends a crazy amount of money. Unfortunately, as excited as your friends may be about being in your wedding, they also are probably worrying about the money they're going to have to throw at it. Everyone knows the outfit, glam, bridal showers and more can be expensive. If you choose to opt-out of a bridal shower, you may be saving your friends some cash.
You will not need to plan any transportation. Chances are by the time you are getting married, most of your best friends have moved out to all corners of the country, or even the world. If they are in your wedding party, that also means you have to work together to figure out travel plans as well. This includes days other than the wedding like the bachelorette party, bridal showers and more. If you don't have a bridal shower, consider this to be one last thing on your list to do.
The decision will be one less thing to worry about. Most of these points have followed along a major theme. Having a bridal shower is more people, money and traveling to be in control of. It is simply more stress that you won't want to take on. So, before deciding to have a bridal shower, make sure you know our personal stress boundaries.
For the final reason why you shouldn't have a bridal party, click here.