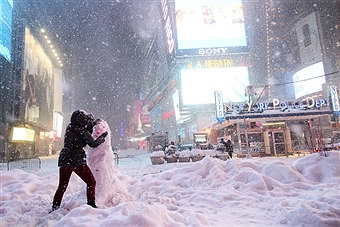 When people are planning their wedding day, they usually are thinking of a beautiful venue, beautiful people and most importantly, beautiful weather.
Sure, some may prepare for a couple drops of rain, but have you ever heard of a blizzard striking on that big day? Neither had one bride from an article on Buzzfeed. A blizzard was the last thing on her mind, but when she woke up the morning of her wedding to see Snowzilla every previous expectation vanished.
This is what to expect if a blizzard happens on your wedding day.
Mother Nature is rude, relentless jerk.  She does not care if you have been planning this day for weeks, months or years. She does not care about how many family members you have traveling into town. She does not care about transportation systems or planes being shut down. Mother nature is going to do what she wants when she wants, and you kind of have to deal with it.
Your "type-A" side will not stand a chance. This can be hard for a lot of brides to hear, but it's true. In unexpected weather, most things will not be able to go according to the specific schedule you have planned. Remember to work with what you have, and know that everything will turn out if you keep your cool.
Wedding vendors are as professional as it gets. This quality will especially shine in cases of emergency. During a blizzard, most venues will allow you to start having guests show up multiple hours before the actual occasion. They will provide top-notch hospitality in the form of food, beverages and entertainment. Even if whether causes half of the staff to be absent, you will probably never know because the show will continue on.
You appreciate your guests so much more. You'll know the ones who show up in even the worst weather are the true heroes. They are the people who would do anything for you and be there for you through rain and shine. The people who love you will trudge through any hardships to be their for your special day.
Guests will focus more on what really matters. They won't have high expectations that are seemingly impossible because of the weather. They will understand that sometimes you can't have everything go perfectly, and that's okay to them. The day will become more about love than anything else.
For more must-have information one what will happen during a snowzilla wedding, click here.