Tips to making the perfect toast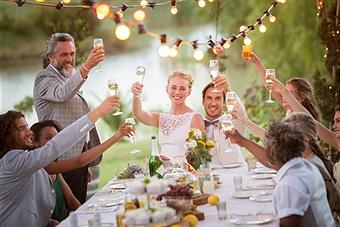 Whoever said the bride had the most stressful job at weddings was not considering every other job at hand.
According to this article from Delta Optimist, the best man and the maid of honor have one of the scariest jobs at a wedding. What could be so scary about having the role in a wedding? The toasts that these positions have to do at receptions.
To guests, toasts are often the part of the reception that are looked forward to. They are funny, emotional and full of great memories. However, these expectations can lead to lots of anxiety for those who have to give the speech. If you are finding yourself in this position, there is no need to panic. A big heap of helpful advise can be used to make sure you don't let anyone down, or more importantly, don't embarrass yourself.
Try to keep your speech brief. There may be years of funny stories or inside jokes involved in your friendship, but there simply is not enough time to go over every memory. Highlight the memory that sticks out most in your head, and bring the story to life again. However, avoid using too much detail and rambling on.  This makes guests bored or confused.
Don't be too formal, even if the wedding is the fanciest wedding to ever happen on planet Earth. Every stiff reception can benefit from a speech with a few great jokes. Try being spontaneous and stepping outside your realm of comfort. Surprisingly, this has the potential to calm your nerves.
Also, you can never practice for the speech too much. Practice in front of your mirror at home or practice in front of a good friend. Just like everything else, practicing will help you smooth out any bumps or lulls in the speech. Constant practicing will also reduce your need for paper on the big day. Not reading your speech word for word from a paper will allow you to look more comfortable and confident during the big day.
Be sure to stay appropriate. Although humor is vital to the success of the speech, be sure to keep it classy. Remember grandparents, parents, young children and other family members will be in attendance. Offending the bride or grooms family would be a huge disappointment and embarrassment.
Finally, share well wishes for the bride and groom. Sending constant love and positivity is always a good note to end on during a wedding reception speech.
For more details and help planning a reception speech, click here.