How to plan a wedding in three months or less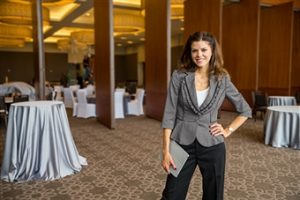 The norm is for couples to take at least one year to plan their wedding.  However, there are some adventurous folks out there who are in a great rush to get married, according to Brit + Co.
Couples could be in a rush for all sorts of reasons.  They may be madly in love and they don't want to be unmarried any longer, or simply for job relocation purposes.  Whatever the reason may be, if someone is planning on organizing a wedding in less than three months, they should be prepared for the crazy ride ahead of them.  In this article, professional wedding planner Whitney Davis has given some great advice when it comes to planning weddings quickly.
One of the first things one should do when they get engaged is to take a bit of time to celebrate. Go ahead and share this exciting news with family and friends, and have a toast. However, next is when the business comes in. A great first step is to sit down with your partner and talk about what aspects of the wedding are a top priority and which aspects are not. This is a natural way to begin to prioritize the planning process.
When prioritizing, it is always a good idea to start planning the big pieces to your wedding puzzle.  One of the larger details to cover right away is booking a venue and making sure your date is available.  It would be a shame to go through planning numerous other things only to realize the desired date was never available.  Once a date is set, the next big projects would be to start booking vendors and getting the save-the-dates out in the mail.
Time management is also a major aspect when it comes to planning a wedding in a short amount on time.  One should be flexible when it comes to appointments.  Also, one should understand that when planning a wedding in a short time frame not everything is going to work out, and sometimes you have to fall back onto Plan B or Plan C.
If you plan on creating DIY decorations it will be beneficial to discuss what direction you want to go in with your partner.  Start by listing out your interests and thinks that describe you both as a couple.  From there it is very simple to find easy inspiration on the internet.
For more resources about how to plan a wedding in three months or less, click here.