16 New Year's Resolutions for College Students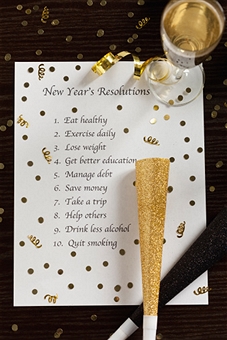 Have you thought about what your New Year's resolution will be for 2016?  If not, Bustle has just posted the best article for you.  It can be hard sticking to resolutions, especially if you're a college student.  Although, maybe you haven't been setting goals that are ideal for a student mindset and schedule.  Check out some of these great resolutions and form some of your own too!
Go to class prepared and ready
Make your bed everyday
Cook one meal a day
Set a routine
Make time for friends
Find a study spot
Learn how to multitask
Be wary of too many shots
Eat one healthy thing a day
Keep tabs on your bank account
Think about your career
Make a friend in every class
Get to know at least one professor
Focus on yourself
Stay hydrated
For the 16th resolution idea, click here.