CSU lacrosse escapes with victory over Utah
Damon Cook , Staff Reporter
April 11, 2023
The Colorado State University Rams' lacrosse team battled the University of Utah Utes in a game that came down to the last shot. Despite the tense moment for the Rams, goalkeeper Charlie Bibaud made the save to win the game 12-11.
That play capped off the Rams' comeback efforts. Despite being down 7-5 at the half, their effort on both offense and defense helped them secure the victory. Bibaud came up huge not only on the last play but several times during the third quarter as part of the Rams' comeback effort. His three saves, including one that was above his head that he made while falling backward, helped keep the momentum in the Ram's favor.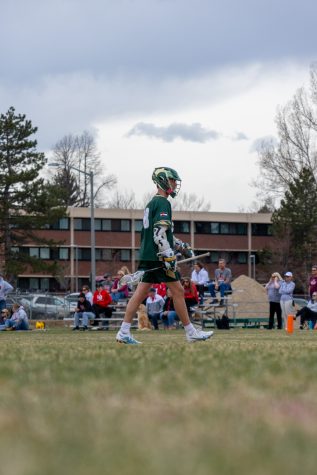 "If you get the first save in a game or you get the first shot, it totally changes your mindset on the whole game," Bibaud said. "That second half was really big for me. I was definitely seeing the ball really well."
While Bibaud provided an anchor on defense, Rams attacker Riley Flores helped lead the charge. Flores ended the day with six goals accounting for half of the Rams' 12 points. Flores showed off his ability to get goals in a flashy way: Right after receiving the pass, he spun to his right, shooting the ball backward and right into the net. After scoring the goal, Flores looked over to his mom and said, "Mom, I'm great."
"I got hurt," Flores said. "I missed half the season, which is really difficult. I was having trouble having fun with the sport, and that's why I played it, so that's part of lacrosse, being creative. … My mom was watching, and she said just be yourself — there's nothing to lose."
The entire game was up and down for both teams, including the fourth quarter. The teams went into the final quarter tied at 8 points apiece. The Rams continued their exciting run, starting the fourth where they left off. They scored their first of 3 goals straight just 1:08 into the quarter. Utah came back and scored two more. Their second goal came with a foul, and the Utes had a one-man advantage but couldn't capitalize.
"I mean, obviously, we were going one goal at a time," head coach Ryan MacDonald said. "Then we started climbing, and it started getting better. We knew that that game was ours and that we weren't going to let it get out from under us."
The Rams now set their sights forward as they take on the University of Colorado Boulder Buffaloes at 7 p.m. April 15 in Canvas Stadium.
Reach Damon Cook at sports@collegian.com or on Twitter @dwcook2001.