From dejected to ejected: CSU football wraps up dismal season
Colorado State football program struggles for success the second year in a row under Steve Addazio.
Jeremiah Janzen, Sports Reporter
December 1, 2021
At his introductory press conference in 2019, head coach Steve Addazio assured Colorado State University football supporters that their football program was going to make them proud.
"For winning, we are positioned for success," Addazio said at the presser. "We want to win our conference, beat our rivals and have great success."
"We are going to put an exciting product on the field," he said. "You are going to be so proud that you're going to have a football team that carries themselves that way, that competes on the field with toughness, passion — a passion for the game, … and I want them to have an unbelievable passion."
Now two seasons into his tenure as head coach at Colorado State, Addazio's promises look like Canvas Stadium during Saturday's season finale: empty.
A 52-10 senior night blowout loss to the University of Nevada, Reno last Saturday capped off yet another disappointing season for Colorado State football. The Rams ended the season on a six-game losing streak, finishing with an overall record of 3-9 and coming in second to last place in the Mountain West Conference.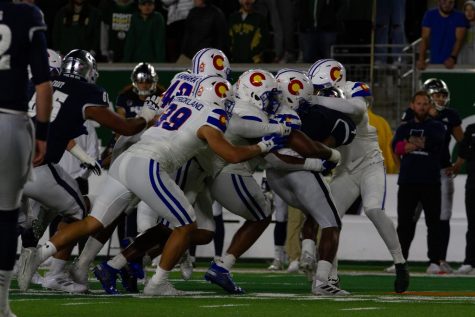 This season marks the fourth consecutive losing season for Colorado State football, who have not appeared in a bowl game since 2017. In its four years, Canvas Stadium has hosted just one season of winning football, raising questions about the financial viability of the $220 million structure. Addazio's overall record as the Rams head coach during his two seasons is a disheartening 4-12.
Despite losing their first two games of the season, the Rams appeared to get back on the right track, winning three out of their next four. The lone loss during that stretch came in a closely contested matchup to the University of Iowa, who was ranked fifth in the nation at the time.
After the Iowa game, the Rams conference schedule started off on a positive note as they reeled off two dominant wins over San Jose State University and the University of New Mexico. Just as it appeared that Colorado State may be on that road to success that Addazio had mentioned, the wheels completely fell off the Rams' wagon.
In their following game against Utah State University, the Rams marched downfield in the final minute to set up a potential game-winning field goal. However, poor organization and time management in the final seconds of the contest resulted in a heartbreaking loss for Colorado State. The rocky relationship between Addazio and the media seemed to reach its boiling point following the loss.
Initially placing blame on his players for the costly blunder, it wasn't until the following week, under much scrutiny, that Addazio tried to save face by taking responsibility for what transpired. The loss and subsequent handling by Addazio signaled the beginning of the end for the Rams' season, as they lost their next five games while also letting up more points in each of their next outings than they did in the previous game.
The final debacle of the season occurred Nov. 27 against Nevada as Addazio became only the second head coach in NCAA Division I Football Bowl Subdivision history to be ejected for two unsportsmanlike penalties since the rule change in 2016. On a night meant to honor and highlight the senior athletes that have given so much to this football program, Addazio instead managed to steal the headlines with his in-game gaffe.
Although participating in a season of dismay, several athletes provided Rams fans with the type of pride that Addazio emphasized during his introduction to the program. Defensive lineman Scott Patchan joins tight end Trey McBride in being the only two Rams named to the 2021 All-Mountain West First Team. McBride is a projected early round draft pick in the upcoming NFL draft.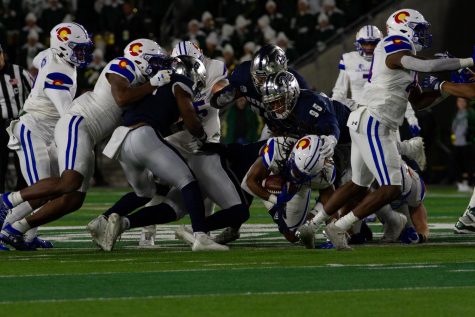 Cayden Camper's six made field goals in the game against San Jose State set a CSU record for single game made field goals. Camper also set the CSU single-season record for made field goals.
Punter Ryan Stonehouse was honorably mentioned for the 2021 All-Mountain West First Team. He wraps up his career at Colorado State as the FBS all-time leader in average yards per punt.
As Colorado State stares down the barrel of a third season with Addazio at the helm, it's hard to tell what lies ahead for this football program. While fans may remain understandably pessimistic about the future, players on the CSU team remain confident about it.
"I think there's something really special here," Stonehouse said postgame Saturday. "I know the results don't really show that, but I think, internally, there's something good going on."
Whether or not CSU football will achieve success under Addazio remains to be seen. One thing seems certain, though, and its controversy is certain to invoke debate throughout the offseason both in person and on social media: Addazio is here to stay.
Reach Jeremiah Janzen at sports@collegian.com or on Twitter @JeremiahJanzen.