Colorado State football welcomes 24th head coach Jay Norvell
Colorado State University's new head football coach Jay Norvell expects to win next season.
CTV Channel 11
The 24th head football coach in Colorado State University history has been officially welcomed to the team. Coach Jay Norvell, previously a conference rival head coach of the University of Nevada, Reno Wolf Pack, held a press conference in front of a standing room-only crowd with media, alumni, students and staff at the Iris and Michael Smith Alumni Center in Canvas Stadium.
Previous head coach Steve Addazio was fired less than a week ago, marking a quick turnaround in the search for a new leader. Despite the speedy turnover, CSU hopes they have made a decision for the good of the team's future, and Norvell may just be the answer.
"I'm not afraid to say it: We want to be in a big bowl game. … I don't want to get up and be average." –Jay Norvell, CSU head coach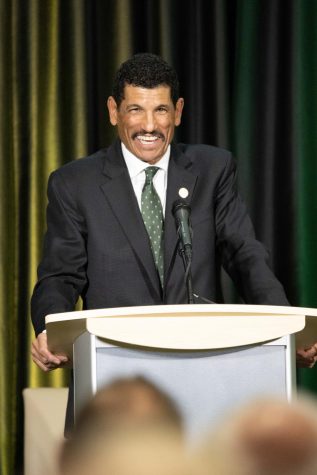 Norvell made quick work of turning the Wolf Pack's program from a bottom-of-the-pack team into bowl winners. His first season with Nevada in 2017 ended with a 3-9 record, but just one year later, the team won the Nova Home Loans Arizona Bowl over Arkansas State University and finished 8-5.
The Rams could use some of that magic from the offensive-minded Norvell after CSU's previous coaches have struggled. 
"I think of myself as a football man," Norvell said. He said he plans to achieve great things through the aerial attack, centered around a strong, intelligent quarterback and tall long receivers that "look like a basketball team."
Norvell is relatively new to being a head coach for a college football team, with only the last five years of his 35-year coaching career dedicated to that role. However, he believes those five years will be a difference maker for the Rams.
"I just think that five years of trial and error and really centering on the things that are most important will allow us to get to the answers very quickly," Norvell said.
Norvell was not shy about his expectations and even brought up the word "championship" when discussing his goals for the program.
"We expect to win," Norvell said. "I'm not afraid to say it: We want to be in a big bowl game. … I don't want to get up and be average."
The Rams finished this year's campaign with a 3-9 record and will soon begin winter practices ahead of next season, according to Norvell.
Reach Braidon Nourse at sports@collegian.com or on Twitter @BraidonNourse.