Colorado State women's basketball takes on Louisville
Michael Giles , Sports Reporter
December 1, 2021
Although the Colorado State University women's basketball team lost to the University of Louisville Cardinals in Sunday's game with an end score of 71-56, their hard work and willingness to give the Cardinals a run for their money were forces to be reckoned with.
The Colorado State Rams did an incredible job adjusting to the amount of pressure and heat the Louisville Cardinals were throwing at them throughout the game.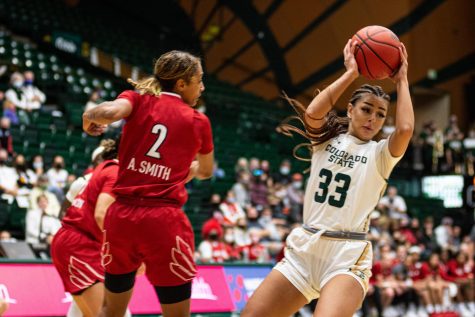 The Cardinals women's NCAA basketball team is currently ranked No. 9 in the Atlantic Coast Conference. This team is quite remarkable when it comes to pulling wins. They currently have a 5-1 win to loss ratio and have held their winning streak strong. Though some of their recent wins have held opposing teams down at least 30-40 points, our Colorado State Rams were only down by 15 points in the final score, for which they should be incredibly proud. 
Going against a team like this just shows how good we can really be." -Sydney Mech, CSU junior guard 
The way our team maintained their athletic composure throughout this very high-pressure game shows a lot about how strong they really are compared to other teams. 
"Going against a team like this just shows how good we can really be," junior guard Sydney Mech said.
This was not an easy team to compete against, said head coach Ryun Williams.
"You got some teams that can really bring some heat and disrupt your offense, which was the case today," Williams said. "This was a good game to learn a lot from."
The level of athleticism that the Louisville Cardinals played with seemed to really surprise the Rams, forcing them to make lots of adjustments after the first quarter to apply more pressure. 
Williams said he "liked the way our kids competed. We just kept finding a way to grind out some possessions and got enough shots to keep our fans on the edge of their seats." 
Moving forward, Williams said his biggest takeaway from the game is "that we can compete, and we must pay close attention to detail. … If we play with good composure and increase our toughness and attention to detail, we can be a good team and hard to beat." 
Our turn to go to a tourney 😍

🏀 First non-conference tournament since the Navy Classic in 2015 👀#CSURams pic.twitter.com/ZmyPDveGdq

— Colorado State Women's Basketball (@CSUWBasketball) November 29, 2021
Though this was a loss for Colorado State, the level of confidence that the women's basketball team played with Sunday is sure to bring them far in the Mountain West Conference, especially with a coach like Williams helping his team learn how to grow from failure and not take losses as defeat. Overall, this game was exhilarating to watch and a game you should be incredibly proud of your Rams for.
The Rams will take some time before getting on the road and heading to the 2021 Arizona State University Classic in Tempe, Arizona, to take on Harvard University Dec. 4 and The University of Texas at San Antonio Dec. 5.
Reach Michael Giles at sports@collegian.com or on Twitter @Michaelrenee10.