CSU women's basketball show promising start against Chadron
Bryson Schminke
November 4, 2021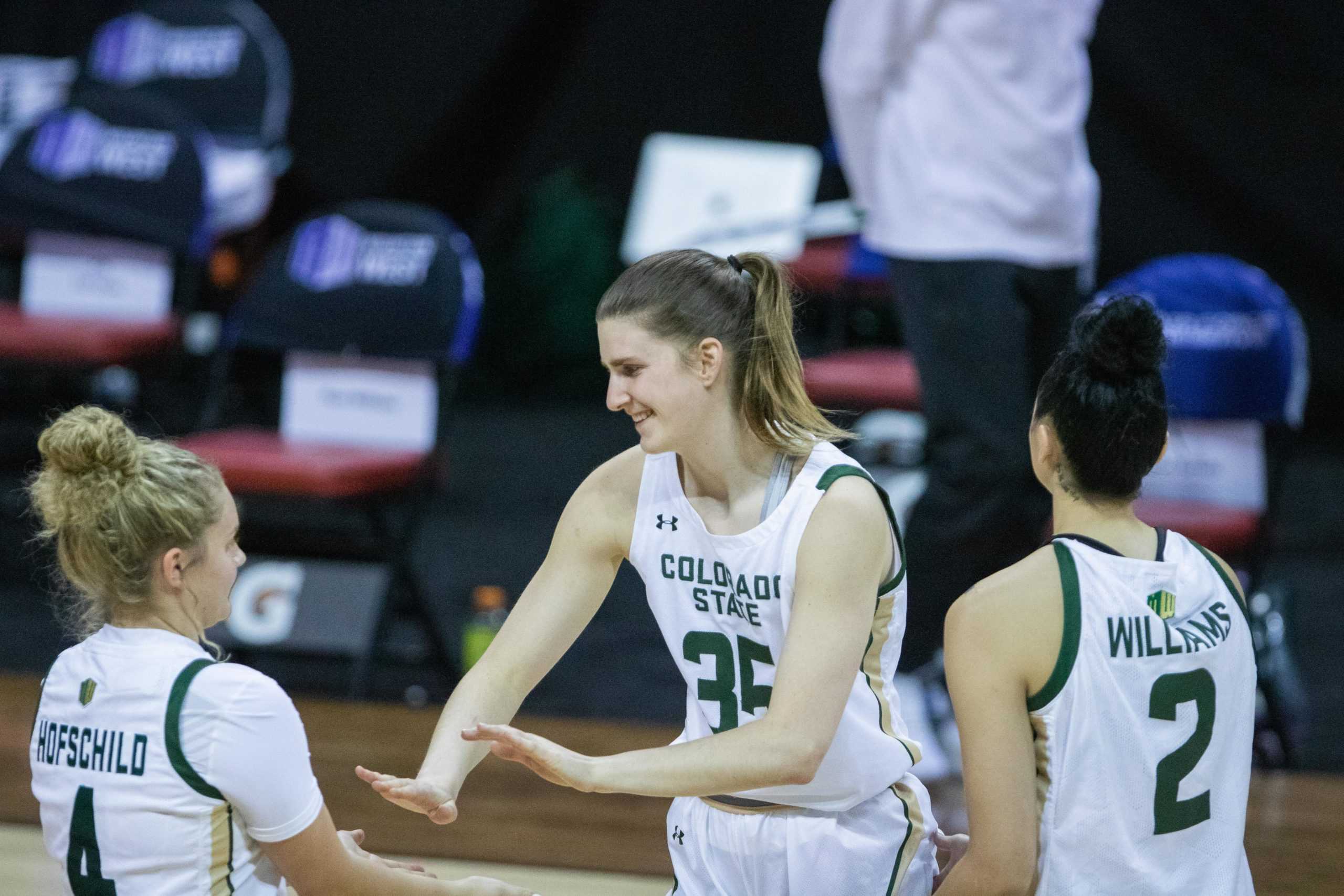 Our Colorado State University women's basketball team is looking loose and ready to compete this season. The team showed up at their first debut exhibition game at Moby Arena competing against Chadron State College Nov. 3. The team was ready to hone their skills for the regular season with a blowout win of 78-43. 
In the first quarter, Colorado State came out on fire, making 15 of the 20 shots taken and only missing one of the five free throws. Chadron fought against them hard in the boards though having 5 offensive rebounds in the first quarter and Colorado having none. This allowed Chadron to get four-second-chance points.
The women really played some good team ball, finding the open player so they can make the easier shot with 5 assists in the quarter to start off. The shooting did not seem to be an issue as well with a 73.3% field goal percentage at the end of the quarter, with 28-11 to lead the Rams. 
Chadron State continued to fight though — they did not foul one time in the second quarter and still put some amazing pressure on the Colorado State team.
Colorado State looked to be handling it, but they only made six of the fifteen shots. The Rams seemed to have had a tough conversation about the boards they were allowing Chadron to get because they were aggressive in ending the quarter with ten rebounds. Colorado also has depth on the bench, with eleven points coming off the bench in the first half and ending at halftime with a lead of 40-22. 
In the third quarter, Colorado seemed to have had some light back and fired only when they knew there was a good shot, shooting eleven times and making seven. They also went eight for eight on free throws, extending their lead more and more as the game continued.
Chadron still gave no rest on getting boards and ending the quarter with six offensive rebounds and having two-second-chance points. Colorado seemed to play together, but made only one assist in third. Colorado State had one of the better quarters, getting 22 points and Chadron State women only getting 12 points, ending the third quarter 62-34 with Colorado State on top. 
Now we go into the fourth quarter with nearly a thirty-point lead. Both teams fight till the end and no one seems to have any intention of giving up. The defense and exhaustion seem to have got to the teams though with both teams only making three shots.
Colorado State had nine shot attempts and Chadron State had 10 shot attempts. This became Colorado State's lowest field goal percentage of 33.3%. Although the low shooting percentage Chadron seemed to have been a bit trigger happy and put Colorado State on the free throw line a bit of times. The women capitalized and ended making ten out of the 11 free throws (90.9%). Colorado State had amazing defense though ending the quarter with four steals.
Colorado State University ended the preseason game against Chardon State College with a final of 78-43, really making their starting mark this season. 
Exhibition ends in a WIN‼️

CSC 43 // CSU 78
FINAL#CSURams pic.twitter.com/U11LvAclUA

— Colorado State Women's Basketball (@CSUWBasketball) November 4, 2021
McKenna Hofschild ended the game with a 50 field goal percentage, making five out of 10 shots with six rebounds and five assists. Hofschild became one of the lead scorers for the Colorado State team, showing she will most likely become the dominant leader for the team.
Upe Atosu
was the next leading scorer with a 60 field goal percentage, making three for five, and had a 100% free throw shooting five for five. Atosu seemed to be the scorer of the team and will be trouble in the Mountain West Conference for defenders.
Cali Clark had a 62.5 field goal percentage, making five of eight and having six rebounds. This season I bet we will see her grab all the boards and dish it out to the shooters. We will also see her in the paint scoring down low when there are mismatches.
The Colorado State University women's basketball team will make their first official game here in Fort Collins on Nov. 9, against Colorado Christian University. 
Reach Bryson Schminke at sports@collegian.com or on Twitter @brysons81.