Colorado State volleyball set for a 2-game road trip
Tyler Meguire
October 28, 2021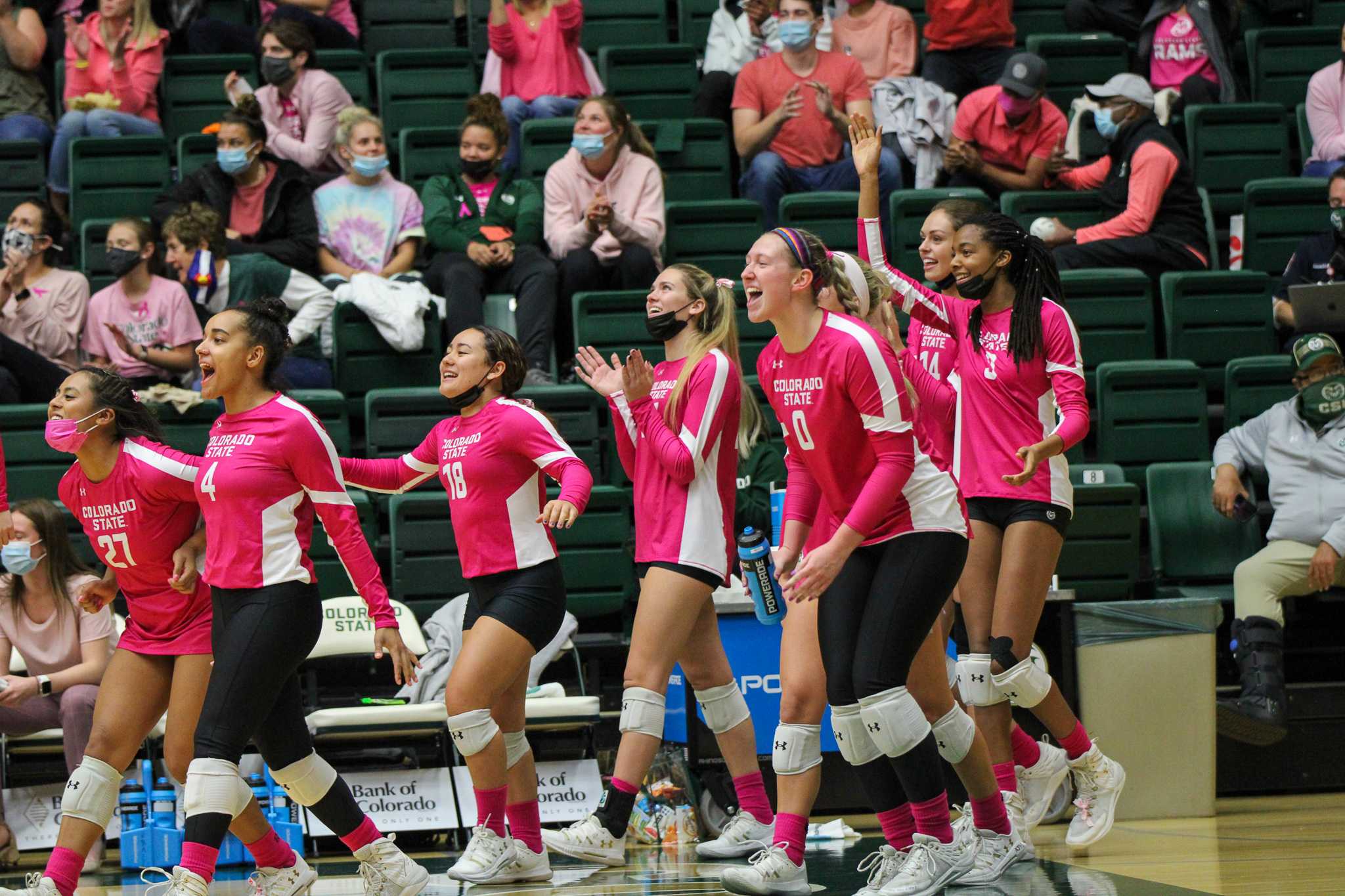 The Colorado State Rams volleyball squad is heading south to square off against familiar foes.
The Rams (13-6 overall and 9-1 in conference) will head to Colorado Springs, Colorado, to face the United States Air Force Academy (5-15 overall, 2-8 conference). After Air Force, CSU will keep moving south to visit the University of New Mexico Lobos in Albuquerque, New Mexico (15-6, 6-4).
The Rams are coming off two commanding victories against the San Diego State University Aztecs (6-16 overall and 3-7 in conference) and the University of Nevada, Las Vegas (15-6 overall and 6-4 in conference) Rebels. CSU also comes into the away series on a six-match win streak.
Rams defensive specialist Alexa Roumeliotis was even awarded Mountain West Defensive Player of the Week for the big-time contributions last week.
https://twitter.com/CSUvolleyball/status/1452685084998324225?ref_src=twsrc%5Egoogle%7Ctwcamp%5Eserp%7Ctwgr%5Etweet
Current categorical leaders for the Rams heading into the series:
Kills: Kennedy Stanford (204)
Assists: Ciera Pritchard (680)
Service aces: Pritchard (28) and Roumeliotis (24)
Digs: Roumeliotis (321)
Blocks: Sasha Colombo (57) and Karina Leber (55)
Air Force Oct. 28
The Rams hosted Air Force in Moby Arena on Oct. 16. CSU swept Air Force in front of 2,188 fans, winning the sets 25-14, 25-19 and 25-15.
Air Force recently hosted the University of Nevada, Reno Wolf Pack (3-19 overall and 0-11 in conference) and visited the San Jose State University Trojans (14-7 overall and 8-3 in conference). The Falcons swept the Wolf Pack 25-17, 26-24 and 25-19. Then, the Trojans gave them a taste of their own medicine and swept the Falcons (25-23, 26-24 and 25-18). Air Force (a bottom-two team in the MW) made San Jose State (a top-three team in the MW) sweat a little bit, as each set was fairly close.
CSU currently has a 0.5 road record (4-4). It is hard to say the Rams have struggled on the road because they have only lost one away conference match. CSU has played six conference matches at home and has swept six conference teams at home. The Rams have only swept one team on the road (and that was against a winless conference team). CSU lost its first away match to California State University, Fresno and nearly dropped another away match to the Aztecs (but then reversed swept them).
Current categorical leaders for the Falcons heading into the series:
Kills: Bailey Keith (156)
Assists: Caroline Reinkensmeyer (316)
Service aces: Reinkensmeyer (16) and BrookeLyn Messenger (15)
Digs: Allie Griffith (161)
Blocks: Joi Harvey (65)
https://twitter.com/CSUvolleyball/status/1453060948319633408
New Mexico Oct. 30
Right before playing Air Force, the Rams also hosted the Lobos and won in a similar fashion. CSU swept UNM as well, winning 25-13, 25-13 and 25-20. 
Since then, the Lobos have played University of Wyoming (13-9 overall and 5-5 in conference), San Jose State and Nevada. UNM had a tough northern road trip as they were also swept by the Cowgirls (25-20, 25-23 and 26-24).
The Lobos returned home against the Trojans but suffered another loss. UNM lost in five sets in a back-and-forth battle. But the Lobos were able to stop the bleeding on Saturday when they traveled to Reno and swept the Wolf Pack 25-18, 25-22 and 32-30. UNM will host Wyoming on Oct. 28 before the matchup with CSU.
UNM is the tougher matchup for CSU during their road trip. The Lobos have a solid record and are fourth in the MW — and they even took down second-place Utah State University in five sets. The Lobos are a tough team to beat while they are on their home court (a 7-2 record).
Current categorical leaders for the Lobos heading into the series:
Kills: Kaitlynn Biassou (288)
Assists: Melissa Walden (617)
Service aces: Biassou (31)
Digs: Alena Moldan (316)
Blocks: Avital Jaloba (61)
Tyler Meguire can be reached at sports@collegian.com or on Twitter @TMeguire.