Rams volleyball dominate in opening of conference play
Tyler Meguire
September 26, 2021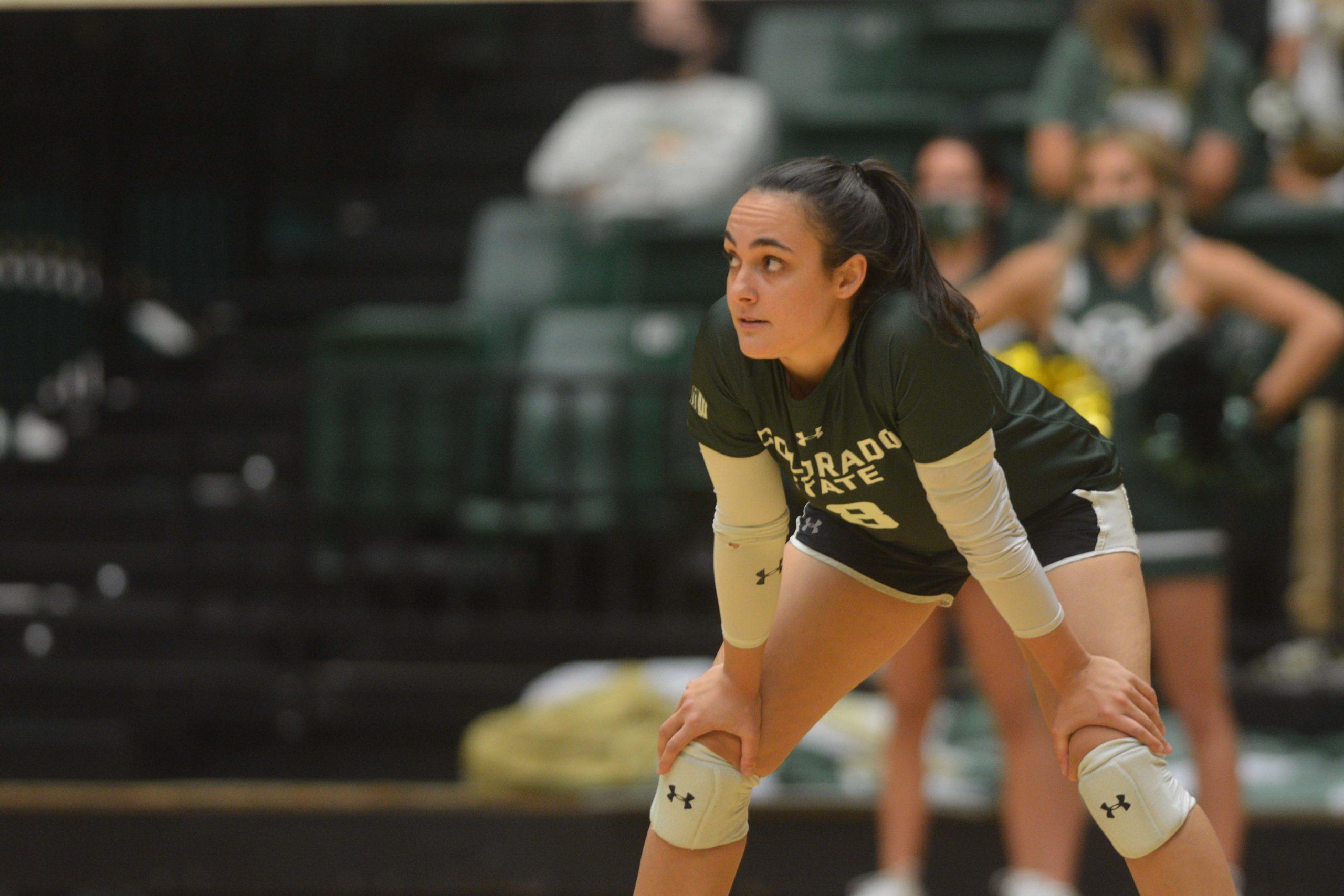 Colorado State University volleyball rolled past Boise State University and Utah State University this weekend and took a strong lead to start Mountain West Conference play.
Game 1 – Boise State University
Colorado State volleyball was fresh off of two losses versus a No. 24 ranked University of Colorado Boulder heading into conference play on Thursday. CSU won the first set of the home-and-home series against CU but then lost six straight. The Boise State Broncos were fresh off nine consecutive wins, winning 27 total sets and only losing four. In their hot streak, the Broncos shocked the No. 15 University of Utah Utes 3-1 in the Sacramento State Invitational.
The Rams and Broncos made sure it was an entertaining match, trading points or stringing along with points from behind. In set one, CSU went up 24-16 but allowed BSU to get back in the set. The Broncos managed to string along six straight to bring the set to 24-22, but the Rams finally closed it out to win 25-22.
We really just played clean — I really just have to give all the credit to our prep. … We prepped harder than we played because we were struggling in prep, but we came out here and it was a really good game, and we played really solid." -setter Ciera Pritchard
Set two was more of the same. After being neck and neck most of the set, CSU found themselves down 23-21. Then, the Rams pulled away with four straight points to win the set 25-23.
Set three was close as the Rams were trying to complete the sweep and the Broncos trying to prevent it. However, BSU took control, going up 19-16. Then, just like that, CSU scored six straight to take a 22-19 lead. The Broncos were close to a comeback, but CSU was able to keep on the gas and win 25-22.
"Every game is magnified now, and we know that," head coach Tom Hilbert said. "Everybody is going to be well prepared for each other; we know that. Utah State will know exactly what we're doing. Things change in conferences. You have to be better."
Kills: Kennedy Stanford (13).
Aces: Ciera Pritchard (2). 
Blocks: Sasha Colombo (5).
Assists: Pritchard (30).
Digs: Alexa Roumeliotis (16).
Game 2 – Utah State University
After sweeping the Broncos, the Rams were rolling and looking for their next victim. Heading into the match, the Utah State Aggies were 9-4 overall, 1-0 in the MW, and the Rams were 5-5 overall and 1-0 in MW. One of these teams had to lose its early perfection in conference play.
Game time was set at 1 p.m. as Moby Arena hosted over 1,800 fans on Saturday.
The Rams and Aggies both got off to efficient starts in set one. CSU scored the first two points and USU answered with two of their own. However, the Rams started to pull away early. CSU managed to gain a 20-12 lead in no time. The Aggies tried to mount a comeback, but the Rams held strong, closing out set one 25-17.
Set two was the closest of the match. The Rams clearly had the home-court advantage and were building momentum at each point. CSU went up 22-14 in the second set by stringing together consecutive points. USU, however, was not going down without a fight. After the Rams got to 24, only needing one point to end it, the Aggies went on a six-point run to make it 24-21. The Aggies ran out of firepower, and the Rams were able to grab that last point, winning 25-21.
The Aggies' late comeback attempt in the second set seemed to be all they had remaining as set three was not even close. After each team scored a point to open up the set, the Rams ensured fans would be getting out of Moby early by scoring 11 straight points to go up 12-1. CSU scored in bundles against a barely hanging on USU team and closed out the set 25-8.
"We really just played clean," Pritchard said. "I really just have to give all the credit to our prep. We have a really great team, and everyone comes into prep just ready to play every day. That really showed today. We prepped harder than we played because we were struggling in prep, but we came out here and it was a really good game, and we played really solid."
Kills: Stanford (16).
Aces: Roumeliotis (2).
Blocks: Colombo (3).
Assists: Pritchard (29).
Digs: Roumeliotis (10).
The Rams are back on the court of Moby on Tuesday, Sept. 28, for the Border War against the University of Wyoming.
Tyler Meguire can be reached at sports@collegian.com or on Twitter @TMeguire.