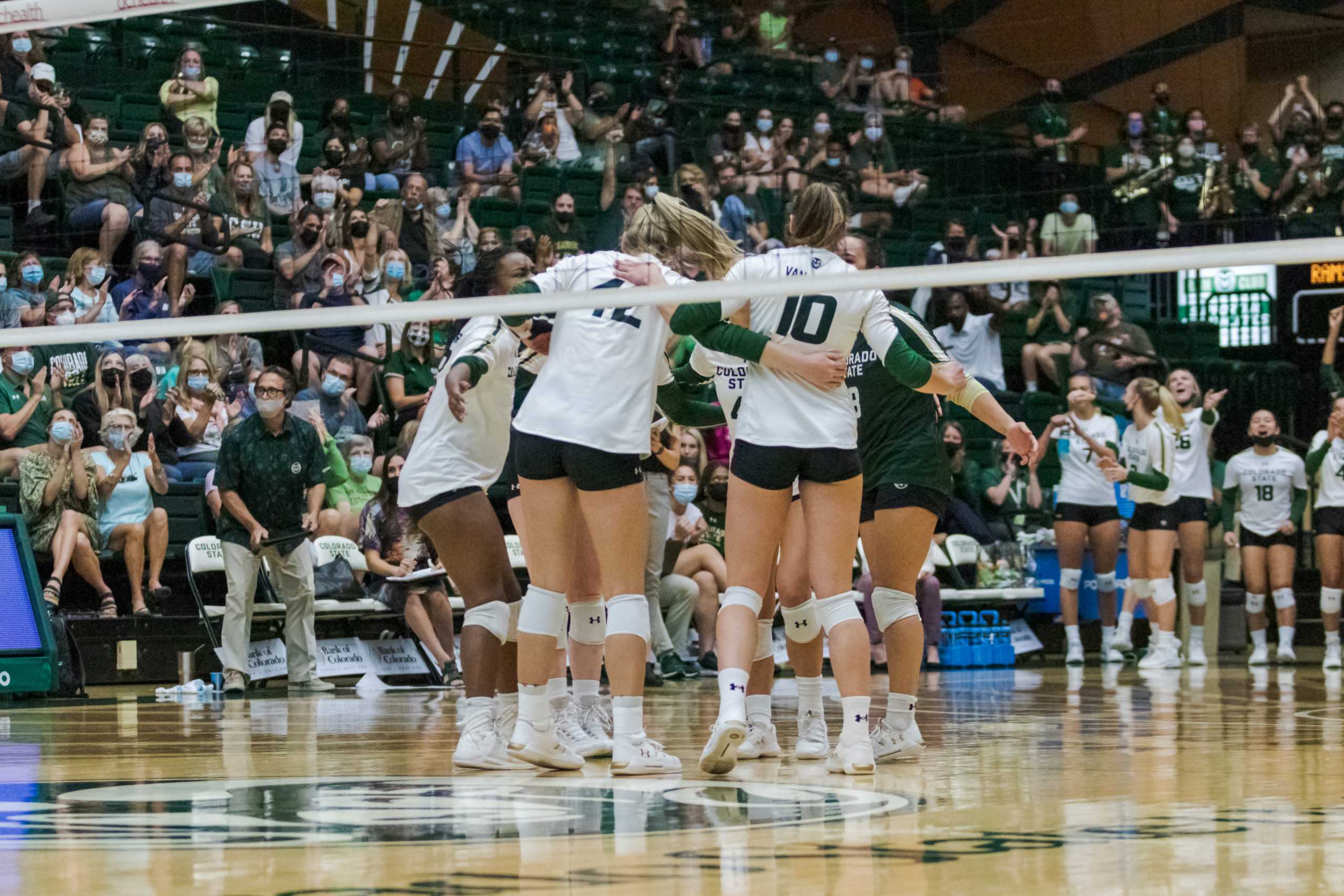 Colorado State University volleyball will host the University of Wyoming on Tuesday for another edition of the Border War in Moby Arena.  
The Rams will come into the Border War with an overall record of 6-5 and a conference record of 2-0. CSU got a taste of conference play after two demanding wins against Boise State University and Utah State University. The Rams have dominated at home with a 5-2 record in front of their fans but struggled on the road with a 1-3 away record. Coach Tom Hilbert wants to remain focused on Wyoming and not get too caught up in the previous games.
"Wyoming is going to be good," Hilbert said. "Even though (Utah State) beat Wyoming, I don't think we got their best game. We'll get Wyoming's A-game when they're here. It's going to be fun, but people need to show up and have a good time because it's the Border War."
They're not going to let that go by easy. We gotta prepare as hard as we do for every other team. I'm excited; I'm ready to prepare." -Ciera Pritchard, setter
The Cowgirls come into the match sitting at an 8-6 overall record and a 0-2 record in conference play. A change of scenery may be exactly what Wyoming needs, as it dropped both conference games at home. The Cowgirls have a home record of 4-5 and an away record of 2-0. Wyoming played USU close but lost the match 3-2. On Saturday, Wyoming was swept by Boise State.
Kennedy Stanford is leading the Rams in kills with 137. Alexa Roumeliotis is leading the team in digs with 202 and service aces with 19. Ciera Pritchard leads in assists with 403. Sasha Colombo and Karina Leber both lead in blocks with 33.
Over on Wyoming's team, KC McMahon leads in kills with 139, and Kaitlyn Gehler leads in digs with 122. Payton Chamberlain leads with 326 assists, and Jackie McBride leads in service aces with 13 and blocks with 41.
The Rams currently have 529 kills, 487 assists, 78 aces, 576 digs and 130 assisted blocks. The Cowgirls have 632 kills, 582 assists, 67 aces, 682 digs and 124 total blocks.
The leader in assists for the Rams backed up Hilbert's statement on the rival coming into Moby.
"They're not going to let that go by easy," Pritchard said. "We gotta prepare as hard as we do for every other team. I'm excited; I'm ready to prepare."
The last time these two teams matched up was in February. Since the scheduling was accommodating to COVID-19 protocols, the Rams played two matches on back-to-back days in Wyoming, splitting the series and winning the first match 3-0 and losing the second 3-1.
Since 2013, the history of the Border War favors CSU. The Rams have a record of 13-3 against the Cowgirls since then. Wyoming has yet to win a match in Fort Collins, going 0-7 on the floor of Moby. Even away, the Rams have the advantage as Wyoming's home record against CSU is 3-6. The Rams have the longest winning streak in the overall series since 2013, winning six consecutive matches from 2013-15.
The last time CSU took on a rival, the University of Colorado Boulder, it did not end well. CSU only won one set in two matches against CU, losing the first match 3-1 and the second 3-0, so the Rams are looking to prove themselves against this rival.
Tyler Meguire can be reached at sports@collegian.com or on Twitter @TMeguire.