Rams finish the season on a 2-game rollercoaster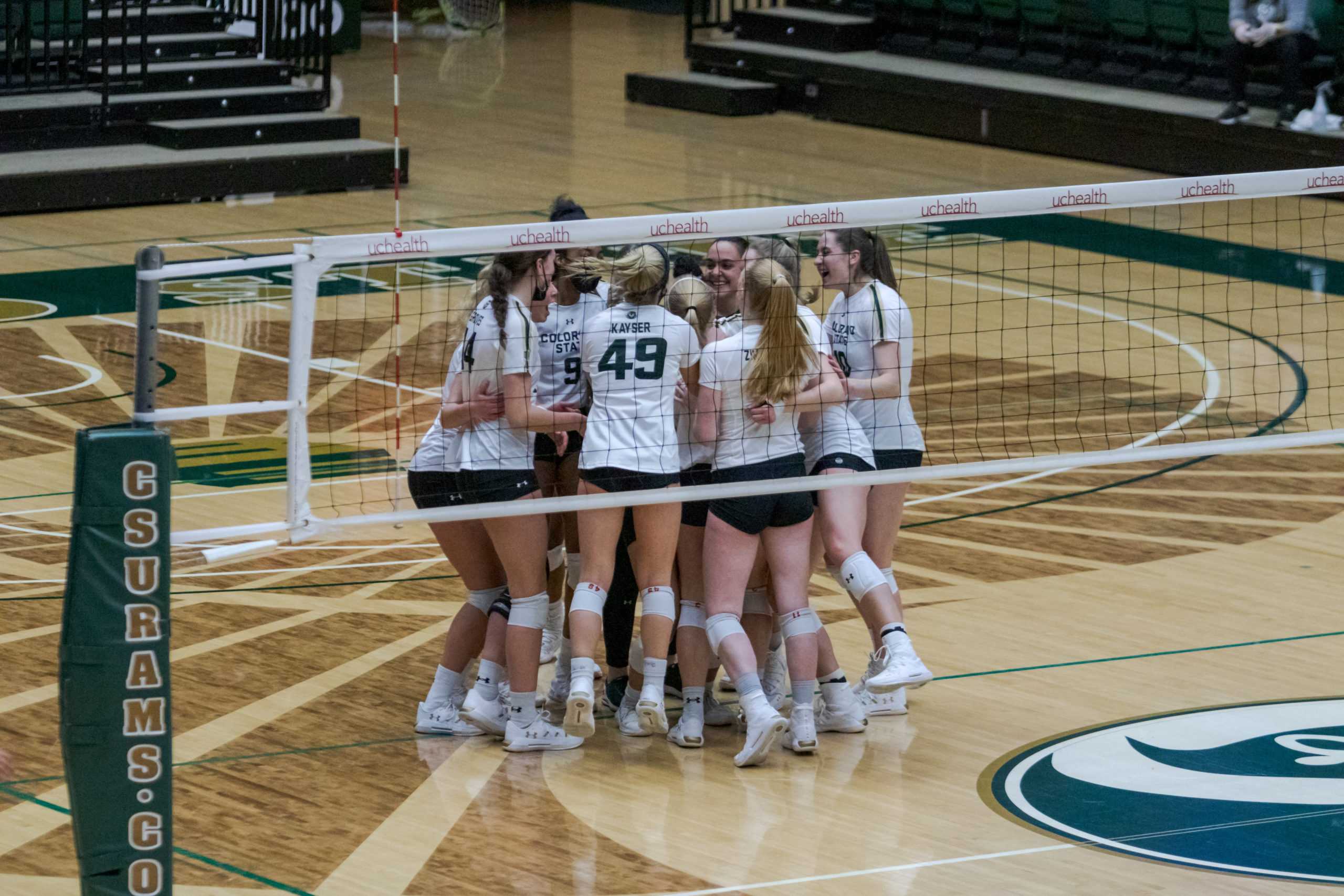 The Colorado State University volleyball team ended its 2021 campaign over the weekend, and the rollercoaster of results seen in the two game series very much mirrored their season as a whole.

Although the Rams did not end the 2021 season on a high note, the young team finished third in the Mountain West Conference with a winning record of 9-6."
On Thursday, the Rams swept the University of New Mexico in Albuquerque, New Mexico, but failed to continue their four-game win streak and would get swept in their last game of the year against San Diego State University.
With the Lobos being second to last in the Mountain West Conference, CSU was quick to do some damage. Although the Rams started the match without their star senior Breana Runnels, little stood in their way as runs of three, five and six points late in the match saw CSU to dominate set one and win 25-9. 
Throughout set two sophomore setter Ciera Zimmerman started to get comfortable and made offensive decisions with a level of experience that distanced her from her sophomore label. Zimmerman showed great trust in the CSU hitters, giving them several great opportunities to get some kills — the setter would finish with 28 assists, and the team would finish with 44 kills on the game. 
The Lobos' defensive struggles and their inability to consistently string together serves saw the Rams take set two almost as swiftly as set one, winning 25-15. 
UNM took an unexpected lead early in the set three 11-3, due to seven consecutive ball handling and attacking errors by CSU. The Rams were desperate to get back in to a rhythm and several strong kills from sets created by Zimmerman allowed them to do just that. The Rams were able to claw back to the three-point deficit of 23-20 before finding their second wind. 
After both teams went back and forth, two late kills from Alyssa Groves sealed the game for CSU, as they would take the third and final set 29-27.
The Rams concluded Thursday night with seven aces and an overall 27.6% hitting average. CSU's offense was able to spread the wealth as Kennedy Stanford ended with nine kills, Sasha Colombo and Groves rounded out the top three with eight apiece.
Unfortunately, Saturday afternoon saw a completely different game than Thursday's efficient performance. The Rams headed to San Diego, California, to play the eighth-ranked team in the conference. The Aztecs seemed to have exposed the flaws of CSU that they had worked all season to perfect. 
SDSU pulled ahead to take a 12-6 lead early in set one forcing CSU to call a timeout. Plagued by errors, CSU could not flip the script and would lose set one 25-14.
Set two and three stayed fairly similar as both teams looked evenly matched, creating long plays but would end with SDSU eventually inching to more and more of a lead as the game progressed.
CSU struggled to get the ball over the net while serving and continued to see attempted kills go out of bounds. Stanford, known for her aggressive kills, had several unfortunate attacking errors that gave free points to the Aztecs.
Set two wrapped up after CSU took a late timeout in an effort to get back on track but ultimately fell 25-20. Set three was a similar occurrence that saw the Rams unable to continuously keep up with the Aztecs; they would lose their final set of the year 25-19. 
CSU ended the game with 22 attacking errors and a season-low of 30 kills and finishing with a hitting average of just 7.6%.
Although the Rams did not end the 2020-2021 season on a high note, the young team finished third in the Mountain West Conference with a winning record of 9-6.
Taylor Paumen can be reached at 
sports@collegian.com
 or on Twitter
 @TayTayPau.