CSU's Elisabeth Rau named MW Women's Golfer of the Week
Keegan Pope
March 27, 2015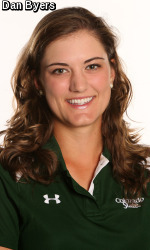 Colorado State sophomore Elisabeth Rau has been named Mountain West Golfer of the Week for her performance at the MountainView Collegiate Invitational March 20-21.
"I am so honored and excited to have been selected as Mountain West Golfer of the Week," Rau said. "With the help of Coach Young, I've been working hard on getting my game more consistent by hitting more fairways and greens. It is great to see it pay off. I'm surrounded by a team that kept motivating me, even when I was struggling, and I am very grateful for that. Most importantly though, I've been focusing on the process and having fun on the course, which I believe will be my keys to success. This only motivates me to keep getting better."
Rau led the Rams wire to wire throughout the two-day event, finishing in a tie for 10th-place, her best individual finish of her career. Rau carded a two-under 214, also a career best.
The native of Irving, Texas, became the first Ram to finish a 54-hole tournament under par since Betsy Kelly shot a three-under at the Price's Give `Em Five Invite Oct. 10-11, 2011.
Rau opened the MountainView Collegiate Invitational with an even-par 72, before shooting a career-low 70 (-2) in the second round. Rau finished strong, carding a 72 and securing the top-10 finish.
Rau helped lead the Rams to a three-round total of 887 (+23), their lowest 54-hole score since February 2014.
This is the second weekly individual honor for a CSU women's golfer this season. Rau joins freshman Allie Andersen, who earned the same award at the beginning of February. This is the first time the Rams have had multiple Golfer of the Week honors in the same season since joining the Mountain West (1999-2000).
Collegian Sports Editor Keegan Pope can be reached at sports@collegian.com or on Twitter @bykeeganpope.