CSU's Ariana Milone named MW Women's Diver of the Week
For the fourth time in her career, Colorado State diver Ariana Milone has been named the Mountain West Women's Diver of the Week.
The junior won both diving events during last week's dual meet at New Mexico.
"This award means a lot to me," Milone said. "I made it a commitment to work even harder this year, both in the weight room and in the pool, and earning this honor shows that the hard work is paying off."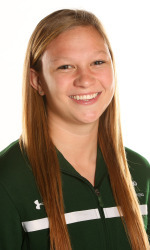 The Woodlands, Texas, native scored the maximum possible points (18), by winning the 1-Meter and 3-Meter springboard events. On the 1-Meter boards, Milone totaled a score of 287.03, just more than a point shy of her season best, and a score which ranks among the top 10 in school history. On the 3-Meter boards, Milone was again stellar, scoring 310.95, second-best on the season and fifth all-time in CSU history.
Milone led the way for a diving group which was dominant on Saturday. In the 1-Meter event, CSU went 1-2-3, with senior Mary Kate Hardy finishing second and sophomore Emily Williams placing third. In the 3-Meter, Hardy again came in second and Williams finished fifth. In total, the divers earned 30 of 32 possible points for the Rams.
"She's obviously talented, but besides that, she works really hard and cares about how she does," diving coach Kevin Witt said of Milone. "She wants to get better all the time and she's competitive. You put all those things together and it makes for a really good athlete."
Collegian Sports Editor Keegan Pope can be reached at kpope@collegian.com and on Twitter @ByKeeganPope.