Koch: Your gameplan to be the best Ram fan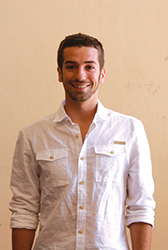 As another year kicks off, there are plenty of reasons for Colorado State fans to be excited about their athletics programs. The football team begins its quest toward a second-consecutive bowl game this Friday against Colorado and the Rams have everything they need to do just that. After a record-setting 2013 season that saw them win 28 consecutive games, the volleyball team is primed to make a run at yet another Mountain West conference title. There is even a palpable buzz around the women's soccer team in only their second year as a Division I program.
If you've been around town, you can already feel the fan frenzy in the Fort Collins air and can't help but daydream about the Moby Arena bleachers rocking or a packed student section in Hughes Stadium high-fiving each other after a touchdown. College sports are some of the most exhilarating forms of entertainment because of the profound personal connections fans and alumni have with their teams.
But along with these daydreams there are also a few nightmares no true CSU fan hopes to experience. With all of the thousands of great, supportive, positive fans there are some examples of fan taboo that occur a few times a season. Simply put, don't be that guy. Although sporting events are quite literally fun and games, a wrong move by a fan can ruin a game, or season for the rest of the fan base. So, here are a few fan ethics guidelines to keep games fun for everyone.
Loyalty
 Bandwagon fans are notoriously bad at this one. Being loyal to your team is not only important to the organization, players, and coaches, but other fans too. True fans don't enjoy being around fair weather fans. But this terrible crime is not the only way to defile your credibility as a fan, leaving games early in a win or loss shows lack of loyalty too. The phenomenon of a mass exodus up the aisle before the final buzzer is one of the most disgusting sights to see as a sports fanatic. Ram fans must win and lose with their teams. After all, players live for the moment they turn to the student section after a big win, and if they can turn to you after a loss, there will be an automatic respect formed between the two parties.
Behavior
 Everyone likes to have fun and let loose at the games. It's a given that some fans are going to enjoy a few drinks at the tailgate to get a buzz for the game. Even if alcohol isn't in the equation, being a fan is characterized by going a little nuts. It's encouraged in fact. But nobody wants to get in trouble, or have to stand next to that drunk guy that keeps bumping into you every five seconds and spilling his drink on you. Have fun, but be classy Rams.
Attire
One of the coolest things to see is a stadium or arena filled with your school's colors. When all of Moby is green and gold it gives me chills, especially when it erupts into a fan frenzy and my ears hurt in the best possible way. But when you see the kid in the front row wearing a black hoodie, or worse, accidentally sporting the other school's colors, it kills the vibe a bit. Sport a CSU shirt and everyone can enjoy the aesthetic beauty of seeing a Colorado State-clad student section.
And so, as we all prepare for the Rocky Mountain Showdown tomorrow, as well as a long season of high fiving strangers or making the wave around our arenas and stadiums, please keep these guidelines in mind. Make everyone proud to be a CSU Ram.
Collegian Assistant Sports Editor Zac Koch can be reached at sports@collegian.com and on Twitter @zactkoch.