Jack Graham firing highlights busy summer for Colorado State sports
From a shocking firing to some major transfers, a lot has happened with Colorado State University sports over the past three months. Here's the rundown of everything you might have missed:
Jack Graham out as athletic director
University president Tony Frank announced two weeks ago that he had decided to terminate Jack Graham's contract and remove him as athletic director. Graham, a former CSU quarterback, said it all came down to the on-campus stadium he has pushed for, but Frank denies the stadium was the reason for Graham's firing.
During his time as AD, Graham hired football coach Jim McElwain, men's basketball coach Larry Eustachy and women's basketball coach Ryun Williams. Graham's contract runs through November 2016. A CSU spokesman said Graham will be paid his annual salary of $260,000 through that point.
Contract extensions for head football, volleyball and women's basketball coaches
Just a few days after Graham's firing, head football coach Jim McElwain, volleyball coach Tom Hilbert and women's basketball coach Ryun Williams all signed contract extensions that should keep them at CSU through at least 2018-19.
McElwain's new deal bumps his base salary up from $1.35 million to $1.5 million. It runs through 2018 and has the option for five one-year extensions. In his second season as head coach, he led the Rams to a bowl victory and their most wins in any season since 2002.
Hilbert's extension keeps him with CSU for at least five more years and raises his base salary from $154,000 to $200,000. He is the winningest coach in CSU history and has led the Rams to 17 consecutive NCAA tournament appearances.
Williams' new contract earns him a base salary of $215,000 with five similar one-year extensions and includes bonuses such as $25,000 if the Rams win the Mountain West championship. The deal should keep Williams, the 2013 MW Coach of the Year, with CSU through at least 2019.
Octeus bolts for UCLA
Colorado State University men's basketball lost its starting point guard and third-leading scorer from last year. Jon Octeus was granted his release to transfer in June and will join UCLA for his final season of eligibility.
Upon having graduated, Octeus will be eligible to play immediately. He averaged 13.4 points and 4.7 rebounds in just under 34 minutes per game last year as a junior, third best on the team in both categories. The Miami native started all 32 games for CSU last season.
Head coach Larry Eustachy has not announced who will start in place of him this season but has talked about possibly moving forward Daniel Bejarano to the point.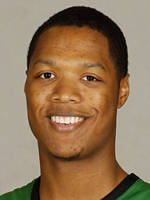 CSU basketball lands two impact transfers at the guard position
The Rams added transfers Antwan Scott and Fred Richardson III to help solidify their backcourt after losing Octeus. Both are eligible to play immediately.
Scott joins the Rams from Grambling State where he shot over 39 percent from three. The 6'1″ point guard from Wylie, Texas averaged 15.7 points, 4.5 rebounds and 3.7 assists per game last season for the Tigers.
Richardson, a 6'6″ guard from Houston, Texas, played in 10 games for Oregon as a true freshman in 2012-2013. Last season he played for Lee College in Baystown, Texas where he averaged 15.8 points, 7.1 rebounds and 1.8 assists per game.
Rams bring in former Alabama running back Dee Hart
CSU football has enlisted the services of former Alabama running back Dee Hart to help fill the obvious void left in its backfield.
Reports of Hart's transfer surfaced in late July when he told the Orlando Sentinel that he was headed to Fort Collins and intended to play for head coach Jim McElwain. It was officially announced on August 4th.
McElwain was the offensive coordinator at Alabama when Hart signed with the Crimson Tide in 2011. Hart is still competing for first team reps with redshirt freshman Bryce Peters, junior college transfer Treyous Jarrells and converted safety Jasen Oden.
CSU quarterback attends Manning Passing Academy
Garrett Grayson got to work over the summer with his favorite player, Peyton Manning, when he attended the Manning Passing Academy in Thibodaux, Louisiana. The senior quarterback was invited to serve as a counselor along with players such as Heisman Trophy winner Jameis Winston.
Grayson set numerous CSU records last season, including a new mark for yards passing in a single season (3,696).
Collegian Sports Reporter Emmett McCarthy can be reached at sports@collegian.com and on Twitter @EmmettCollegian.