Ryan Baily added to track and field coaching staff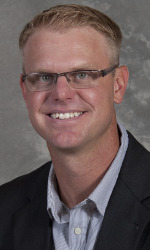 Track and field head coach Brian Bedard announced the addition of Ryan Baily to the coaching staff Tuesday, July 29.
Baily will handle head assistant coaching duties, primarily working with the jumpers and multi-event athletes. Baily is replacing Tim Cawley, who accepted a head coaching position in Idaho earlier last month.
"He's won numerous coaching awards over the years," Bedard stated in a press release. "That's a tribute to his recruiting, coaching and commitment to each athlete's success."
After five years as the head coach at Chadron State, where he qualified a record number of student-athletes for nationals, Baily broke numerous school and conference records. He led the Eagles to their first-ever top 10 team finish at the NCAA DII championships. Now, Baily joins CSU. As a four-time Rocky Mountain Athletic Conference Coach of the Year, Baily coached 38 RMAC champions, 21 All-Americans and one national champion while at Chadron State.
"The Cawleys did an awesome job guiding the jumpers and multis," Baily stated in a press release. "And, I plan on building on the current success that they achieved."
Collegian Managing Editor Lawrence Lam can be reached at sports@collegian.com