For CSU football, focusing on the small things could lead to more wins
Now that guys are understanding the system—and the young guys have impressed coaches early, too—it is time to focus on the details, said head coach Jim McElwain during media day on Wednesday.
"I think we have some good young guys in here," McElwain said. "Based on seeing some athleticism and seeing what some guys were able to do (in the first practice of training camp on Tuesday) I think now the next step is how quickly can they pick it up and step in and be productive members of this year's team."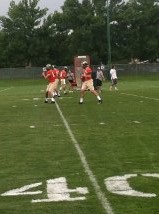 A big focus during fall camp will be working on the small things; the details that can help the team go from four wins to five and even more after that, said safety Trent Matthews.
"The little things take us so much, so far," Matthews said. "When you're just so close (to making a big play) and so close to being that great you have to worry about just those turnover drills and be more effective on interceptions and pass break-ups. Those plays right there can make a third and eight change to a touchdown and lead to something great."
The way to focus on the details is by approaching everything one at a time: one day at a time, one game at a time, one play at a time. That's the mindset players need in order to make 2013 a successful season, McElwain said. For the head coach, understanding what needs to be done today in order to win tomorrow is an important step in creating a winning program.
"I think the way we approach every  single day and  understand—look, it's a long season– but understanding this: we're facing 13 games this year but don't think of 13 games," McElwain said. "Think of what we're going to do today to prepare ourselves for game 13, for game 14."
A game 14 seems to be something that is also on the minds of the players. Some of the players have decided to grow out their hair until they make it to one game beyond the regular season.
"Probably in the spring time my brother and I were sitting down talking and, ya know, a couple of tight ends were around and we just kind of said, 'you know what? Let it flow 'til it comes time to get to that next level and make something happen,' and then we can all, clean shaven, go to a bowl game."
While McElwain is not specifically saying this year will be successful if they make it to a bowl game, showing improvement in the win column is sure to be something that would make for a more enjoyable offseason in 2014.
"I haven't been around many losing seasons. There was nobody that had a more miserable offseason that the guy that's sitting right here behind this mic knowing that we only had four wins last year," McElwain said. "I wasn't just a lot of fun to be around all year and a part of that is… the responsibility of building a winning program and a winning tradition.
"That's what we're bound to do."
Football Beat Reporter Katie O'Keefe can be reached at sports@collegian.com.