So I know I'm a little late posting about last weekend's loss, but, for the past week, I was feeling destitute and very apathetic towards the game of football.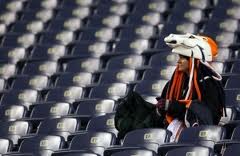 Luckily, I have recovered enough to reflect on Saturday's game with minimal tears, just in time to     tune in to this Sunday's games too.
First of all, I'd like to make some appropriate complaints about the team of refs. In all honesty, they were really biased, but towards the wrong team. After all, isn't a perk of winning home field  advantage to have the calls go mostly your way?
Instead, we got jacked. Not only did the refs fail to deliver us a complimentary penalty or two, they blatantly ignored holding, unsportsmanlike conduct and a pass interference which was responsible for a Ravens touchdown.
Without getting into all of the particulars of the subpar official job (my face is turning red just thinking about it), there is a lot of legitimate blame to shove upon their shoulders.
However, there were many other factors that culminated in our ultimate defeat, and they aren't pretty. We lost that game more than the Ravens won it. I don't like to look at games that way, but this time, it was accurate.
Though Flacco performed (surprisingly) admirably, that was mostly thanks to Torrey Smith. And Torrey was able to rack up so much yardage because Champ Bailey showed his age and got burned. A lot.
Next came the infamous tying touchdown; Flacco sent a bullet straight over Rahim Moore's head and into Jacoby Jones' arms. This was Jones' first reception on the day of course.
Then, with 30 seconds to go and Peyton F. Manning under center, John Fox chose to kneel the ball instead of try for a score, sending the game into overtime. Perhaps it's just me, but I thought we acquired a quarterback like Manning (at a steep $96 million) to utilize his superb arm. Anyway, I surcease.
Now overtime does something to a fan – it's practically the most titillating experience one can experience.
If you end up winning, it makes the game that much more spectacular and the post-win that much more euphoric. And losing is only the most horribly depressive, Earth-shattering feeling in all the world.
Which is unfortunately what Broncos Nation endured last Saturday. But, you know what they say; what doesn't kill you makes you stronger…absence makes the heart grow fonder…
Regardless, those of us in the Mile High city will be waiting with bated breath for next August, when this roller coaster begins all over again.
Besides, for anyone who hasn't made the connection, Elway led the Broncos to a 13-3 season and lost in the Divisional round in 1996 at age 36. The next two consecutive Super Bowls were Bronco victories. Manning is 36 people-next year is our year. And the year after that of course.
Meanwhile, I'm rooting for the 49ers. Kaepernick's tatted arms would look good toting the Lombardi.