Bench propels CSU women's basketball to first win
Just 48 hours between performances would be enough to bother most people — the CSU women's basketball team would not fall into this category.
CSU was still fresh off its Sunday loss when it took on the University of Northern Colorado Tuesday night in effort to find its first win. Fortunately for coach Ryun Williams and his team, they found what they were looking for with a 56-43 victory.
"This feels better than Sunday," Williams said. "Our kids were determined to not let them score, so I'm really proud of the effort and the contribution from everybody. It was a total team effort."
The team effort started early, as CSU was the first on the scoreboard on a jumper that sank from senior forward Meghan Heimstra, matching her game total from Sunday only 1:36 into the game.
"We all did a lot better tonight with confidence, and more poise, and just took control," Heimstra said.
CSU went into the locker room with a comfortable 27-17 lead over UNC, but it quickly vanished when the Bears came out swinging in the second half on a 6-0 run before Williams could call a timeout.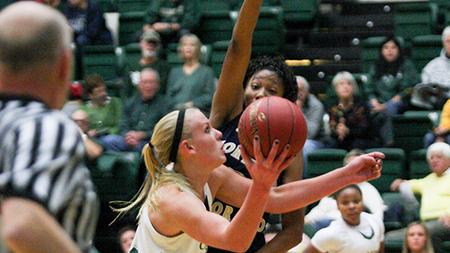 "We didn't come out and guard with the same urgency we needed to guard with, so we're going to hold them accountable," Williams said. "We needed to just get settled down and grit our teeth on that end of the floor. The main thing of the timeout was start guarding again."
The Rams listened to the message their coach sent out during the timeout, and followed it with an 11-2 run to regain the cushion they had previously built themselves.
"I thought our kids responded with a very determined effort, and they corrected some of the defensive end that needed to be corrected," Williams said. "Let's be honest, we have some limitations offensively, that's how we are right now, so we have to defend."
The positive response by the Rams allowed them to out-score the Bears in the second half, which propelled them to the 13 point victory over their Northern Colorado rival.
The Rams pick up their first win of the the Ryun Williams era running off only one practice since their debut loss. The quick turn around put pressure on their bench, which came through with flying colors.
"It feels good. It was a long time coming," sophomore guard Amber Makeever said. "I'm glad I could contribute to the team too, being that bench player coming off and making three's."
Makeever hit 4-of-5 shots she put up from behind the arch, which allowed her to finish the game as CSU's leading scorer with 15. Fellow bench partner Alicia Nichols also reached double figures with 11 points and four rebounds.
"I thought our bench was outstanding tonight," Williams said. "They really picked us up when we needed picked up, so great win."
Women's basketball Beat Reporter Quentin Sickafoose can be reached at sports@collegian.com.