CSU volleyball plays second road game in three days at Air Force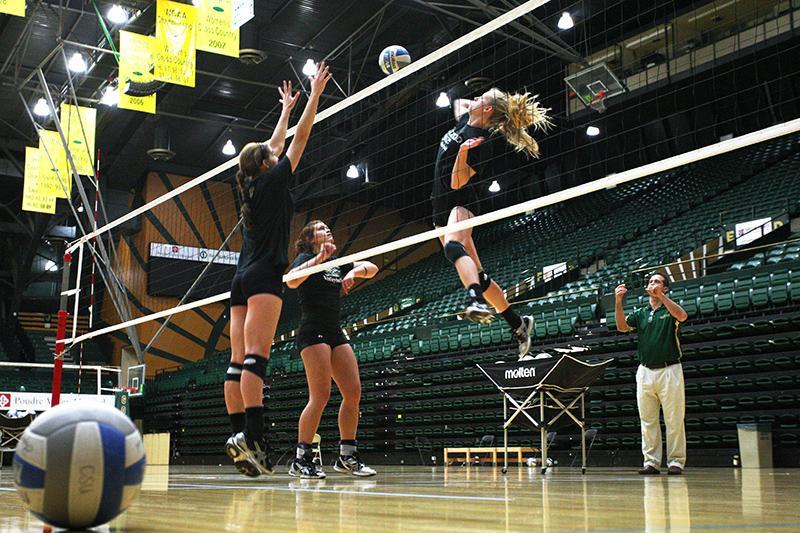 Air Force might be eighth in the Mountain West, but the CSU volleyball team refuses to take the Falcons lightly.
The Rams will play their second of three road games at 6 p.m. in Colorado Springs Thursday after defeating Northern Colorado 3-1 Tuesday.
Even with the heavy slate of matches this week, CSU coach Tom Hilbert won't let his team settle for just playing well enough to win. He wants them to play like Colorado State.
"When we're being Colorado State, we are the disruptive force from the get go of a match, and last night (in Greeley) we were not," Hilbert said. "We need to get after them with tough serving and great blocking from the beginning of the match."
Air Force has lost three consecutive matches at home, but recently broke an overall six game losing streak by defeating Nevada in Reno.
CSU hasn't lost to Air Force since 1982, and hasn't even dropped a set in their last 16 meetings.
The Rams handled the Falcons 3-0 on Oct. 19, recording a three set season high 12 blocks in the match.
But the Falcons will bring a different look to this matchup after moving freshman Felicia Clement to the outside hitter position.
Clement averages 2.6 kills per set on a .164 hitting percentage for the season, but has reached double-digit kills in her last three matches.
"Their attack's more balanced, and they have some different key players now," senior outside hitter Dana Cranston said. "It'll help to know what they're thinking in every rotation."
CSU's familiarity with Air Force, and the general simplicity of the Falcon's system, allowed Hilbert to give most of his team an extremely light practice day on Wednesday to recover mentally and physically.
The entire team watched film at the beginning of practice, then they split into groups to work on individual drills and ended practice nearly an hour early.
"It's nice to get some more rest and a break for our bodies," freshman defensive specialist Jaime Colaizzi said. "Last night felt like such a long game, and this break is really nice for us."
Colaizzi replaced senior Izzy Gaulia as libero against UNC because Gaulia was experiencing neck spasms and is day to day with her injury.
Regardless of Air Force's place in the standings, CSU knows that the Falcons will have some extra energy in reserve for Thursday's match.
"It's the end of the season for everybody, so everybody's fighting every single game," Cranston said. "They're going to be very good at home, so we're definitely not taking them lightly. We know it's going to be a battle."
Assistant Sports Editor Kyle Grabowski can be reached at sports@collegian.com.